I Know What You Did Last Summer/C+,A-
Columbia/1997/101m
This slightly constructed thriller about a group of kids that think they have killed a midnight pedestrian on a deserted coast road tries hard to capitalize on the attractiveness of its young stars. Written by Kevin Williamson, who also wrote the very successful Scream, I Know What You Did Last Summer fails to repeat the genre delight that Scream captured under the helm of director Wes Craven. Jim Gillespie makes a polished picture, but the characters and situations are far from inspirational.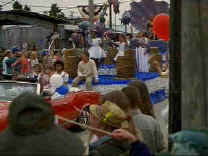 It's just a holiday parade.©Columbia Tristar

The film charts it's course when the four teens opt to hide the result of the accident by throwing the body into the water. Maybe a stupid decision, but dumber things happen in real life. Guilt first follows the high school graduates as they get on with their lives but it is when a plot of systematic revenge takes over that the film begins to strain in both script and cinematic style. Someone knows what they have done and is out to get them. The stalker seems to know their every move. Who could it be. The youngsters investigate to no avail, but rest assured there will be a final confrontation.
This special edition DVD is a very handsome production. Night scenes sparkle and color is thoroughly lively. The image is very sharp in every circumstance. The Dolby Digital 5:1 surround provides several jumpy moments with its excellent detail and precise directionality. Director Jim Gillespie delivers Audio Commentary in a lilting Scottish brogue. Too much time is spent on describing the scenes we are seeing and not enough time of the filmmaking process. Still, the commentary is a major treat.

Check out these selections from our DVD Review Archive. New releases are constantly in our face, but catalog gems should not be forgotten.

The Movie Poster Archive includes extensive poster images from the films of stars like Susan Hayward, Kirk Douglas, Katharine Hepburn and many more. Our featured star is Susan Hayward
---


Selections from the feature archive include articles on Akira Kurosawa, Frank Darabont, Blonde Bimbos, Hollywood Street Gangs, or Vietnam: The Hollywood Pariah, and many more...
A Western is a Western is a Western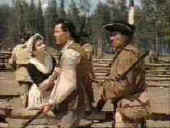 Place or time it's still a Western from John Ford's Drums Along the Mohawk to John Sturges' Bad Day at Black Rock.
---
Roman Holiday


Join the editor and his family on a trip through Roman movie sites in this unusual feature.
---