How To Succeed in Business Without Really Trying/C+,C+
MGM/1967/121/WS 2.35
A comic tunnel vision view of climbing up the ladder to corporate success, How to Succeed in Business Without Trying doesn't show its age because of concept. Corporate politics may have changed significantly, but one can still relate to the musical's world. However, the songs fail to inspire. Clever lyrics off-set stiff musical composition to some degree. Ironically, with choreography based on the original Broadway work of Bob Fosse, I would have hoped for invigorating production numbers, but they lack energy and are far too coy for today's audiences. Only "The Brotherhood of Love," lights of the screen with excitement, but even it seems like a rip from Guys and Dolls,
Young window washer J. Pierpont Finch is inspired by the title book to seek success. He doesn't have to look much further than the tip of his nose as he enters into the employ of the World Wide Wicket Company. From the mail room Finch unlocks everything from the corporate wash room to a secretary's heart. Nepotism roadblocks notwithstanding, Finch cajoles and conspires with religious faithfulness to the precepts of his bible of success.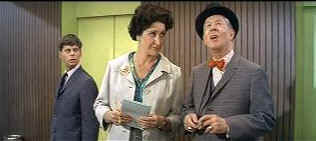 Finch watches as Biggley commands center stage. ©MGM
Robert Morse is ever too precious as Finch. Morse puts over the songs well enough, but if you don't enjoy his broad and obvious style How to Succeed is a mighty long ladder climb. Michelle Lee as secretary Rosemary Pilkington matches Morse mug for mug. They are like a pair of plastic syrup container dolls, lacing out out big blobs of saccharine goo. Rudy Vallee is arch as company president J.B. Biggley and Anthony Teague positively annoying Bud Frump. Sammy Smith adds some comic spice int he dual roles of Twimble and Wally Womper.
It is often a difficult task to translate successful Broadway musical to film. David Swift directs reprising his Broadway assignment and, yes, the film feels stage bound.
The transfer is bright and packs plenty of punch. Images are sharp, but it appears the DVD pressing may originate from a composite transfer. There were some cross color artifacts and films detail exhibits some jitter. Color is the best thing about the transfer. Cartoon color schemes dominate most scenes. The Dolby Digital mono sound is clean and precise.

Take a look at the merry images of America's gift to the movies: Hollywood Musical Posters are featured from The Movie Poster Archive.
---


Selections from the feature archive include articles on Akira Kurosawa, Frank Darabont, Blonde Bimbos, Hollywood Street Gangs, or Vietnam: The Hollywood Pariah, and many more...

From The Adventures of Robin Hood to Casablanca, director Michael Curtiz made movies that delighted audiences. Click on the image for Michael Curtiz: Directed Passion.
---


Lovers of Hong Kong movies will relish MC4's site that includes reviews and other information about the Hong Kong movie scene.
---


Excellent resource for movie review links, with many early looks.
---

ETEKNet is the web's only 24-hour, totally FREE source for all your home theater, DVD, Dreamcast, PC, and Networking tech support needs!
---