Hollow Man (SE)/B,A
Columbia/2000/113/ANA 1.85
Director Paul Verhoeven is one slick movie maker and makes Hollow Man is a far better film than one might expect from the flimsy material. Verhoeven creates a claustrophobic world dominated by the cloak of invisibility. Yes, this is another take on The Invisible Man, the H.G. Wells novel that inspired a legion of films starting with the outstanding 1933 James Whale take starring Claude Raines. Hollow Man barely changes the core psychological material of the original and updates it with technology and colorful sets.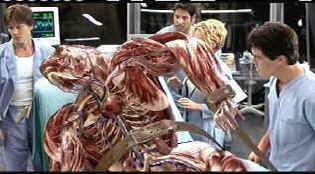 Beefing up. ©Columbia
Deep below Washington, DC's streets a crack team of scientists led by Sebastian Caine is delving into invisibility. They have found a way to disappear animals, but bringing them back to flesh and blood is the missing link. Eccentric genius Caine plays around with genetic code on his computer like a kid challenging a video game. It's not long before inspiration pins the tale on the donkey and the adventure takes off.
Cloaking animals with invisibility is one thing, but this project must find out if man can transform. Who will it be and how will this new found power affect the psyche of the individual.
Hollow Man is a pretty good B film. Verhoeven's crisp, snazzy direction makes a huge difference in delivering the material. His slightly smutty center of gravity works well for Hollow Man. No one can look up a skirt quite like Verhoeven, even when he has his characters doing it for him. The action melds wonderfully with the special effects and it moves at a no-nonsense pace.
Kevin Bacon is a good choice for Sebastian Caine. Bacon's on the edge charm and cockiness prevent his character from being totally obnoxious. Elisabeth Shue gets to show off some good action instincts, calling up some of that energy that infused early roles like Adventures in Babysitting with excellent charge.
Bacon in the buff may sound like a new wrap for fired eggs, but in Hollow Man it's just another instance of the actor slipping into a part for consummate comfort. After all, when Bacon goes "hollow" he does need to shed the cloth to effectively disappear.
Look for brilliant reference images in Hollow Man. Clarity is amazing with a breathtaking feeling of a three dimensional world. Details are immaculately presented without the slightest evidence of edge enhancement. Rich accurate color fully saturated complimented by deep blacks and outstanding shadow detail. Visual punch to spare. This is one of the best-looking DVDs I have seen. The Dolby Digital 5:1 sound is sharply focused and presents an exciting ambient space. Bass impact is tight.
The nicely balanced audio commentary includes director Paul Verhoeven, star Kevin Bacon and writer Andrew Marlowe is the heart of this special edition. There is question and answer between the commentators, which again adds to the level of information revealed. Another commentary features composer Jerry Goldsmith giving his insights into how to create a score for a film. Goldsmith has done some of the best. Several deleted scenes, an HBO making of and a number of short featurettes make up the balance of the excellent special edition.


Starship Troopers/A-,A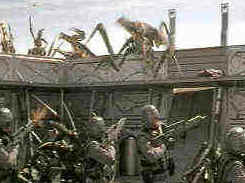 A great, modern, war movie that skewers genre conventions. Director Paul Verhoeven controls the Scifi flick with a perfect flight plan.
---


Selections from the Feature Archive include articles on Akira Kurosawa, Frank Darabont, Blonde Bimbos, Hollywood Street Gangs, or Vietnam: The Hollywood Pariah, and many more....
A Western is a Western is a Western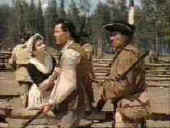 Place or time it's still a Western from John Ford's Drums Along the Mohawk to John Sturges' Bad Day at Black Rock.
---



DVDPlanet is the DVD incarnation of legendary laser retailer Ken Crane's. Deep discounts and serious service.
---

ETEKNet is the web's only 24-hour, totally FREE source for all your home theater, DVD, Dreamcast, PC, and Networking tech support needs!
---


First Run Features boasts a library of independent and foreign features available on DVD and VHS. Check out their web site for catalog details.
---

The Movie Poster Archive include extensive poster images from the films of stars like Susan Hayward, Kirk Douglas, Katharine Hepburn and many more. Our featured star is Burt Lancaster.