Heat/A-,B+
Warner/1995/124m/ANA 2.35
Michael Mann infuses Heat with smoldering intensity in Warner's dynamic anamorphic DVD. Mann writes and directs Heat as if he were distilling all the work he's done for the screen before. Like some great painters of yore, Mann takes successful elements from other complete works, marries them to some new ideas and makes an exciting and new whole that takes on qualities of past creative successes. Heat stands on its own as a passionate and precise work of art. Although not perfect, it is so genre ambitious that its scope alone is an awesome achievement.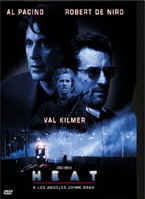 Heat's about a professional heist team taking down one successful score after another. Their work flows with precise planning and split second execution. The team is run by Neil McCauley, a bright ex-con determined never to spend time behind bars again. It is Neil's passion for perfection which drives team to success. Each detail must be faithfully attended, every t crossed. Enter Vincent Hanna, a policeman dedicated to work before everything else. Now Hanna's team has found the link to McCauley's team and is all over them like glue. Can the heisters take down one last great score?
Alongside the great action segments, Heat attempts to get inside its characters to see what makes them tick without compromising the dramatic flow of this essentially action thriller. Mann gives us time to know McCauley as he plans and executes jobs and the rest of his life. Hanna's failed home life is laid bare and it's clear that all that is left for this man is the chase, his work and nothing else. We are given more than just cursory glimpses into the life of gang member Chris Shiherlis and his wife Charlene. Mann milks more understanding from gang member Michael Cheritto with a small knowing smile when he agrees to join the last heist. Details of character expand our interest beyond being jaw dropped witnesses to pyrotechnic cinema displays. Mann weaves an intricate movie tapestry covered by peripheral details that bring everything to life.
Robert De Niro has never been better than as Neil McCauley. Every look, every breath, every movement of body defines McCauley. There's a moment in the car when the expression on De Niro's face changes slowly and he whirls the car to another direction. The actor communicates a delicate range of emotions with his eyes and lips. We understand what makes him do what comes after this scene. Ironically, this is the same moment for me when Heat makes its only false turn. Had the film had the temerity to end in the car, maybe with a crane shot or another encompassing device, Heat would have been nothing short of magnificent. Still, Heat's great and it's Mann's work, not mine.
Playing McCauley's detective counterpart Vincent Hanna, Al Pacino is less controlled, more given to overflowing dramatics. It's a good Pacino performance but it pales in the shadow of De Niro's awesome work. The supporting cast is terrific. Val Kilmer brings a cowboy flair to Chris Shiherlis. He gives himself totally to the character. Ashley Judd is fabulous as Charlene. Watch her performance as she wrestles with the realities of her situation and the love for her man. Tom Sizemore disappears into the part of Michael Cheritto. Though Sizemore has had more substantial parts, Heat's his best screen time. Jon Voight is a slyly perfect choice for the role of Nate, McCauley's confidant and the gang's coordinator. Diane Venora does interesting work as Justine Hanna and Amy Brenneman is an appealing lure to Neil McCauley as Eady.
Michael Mann may never make a film that comes so close to perfection as Heat. Like the heists in the film, each element is brilliantly planned and executed. And Mann has assembled a splendid team of pros to bring off the job. Dante Spinotti moves his camera magnificently during the crescendo of the film, the bank heist. The director of photography delivers various lighting, natural or foreboding with unobtrusive ease. Mann chose Elliott Gouldenthal to compose Heat's score and it's terrific. Pounding behind the action, complimenting the landscape, driving Heat to it's conclusion, the music marries perfectly with the image and story. The image and sound editing are sterling examples of perfection at the editing bay. No false steps here. This film is a thoroughly successful heist.
Heat is a good looking DVD. Perhaps a bit of excess grain sneaks into a couple of scenes, but the feeling Mann is looking for is achieved. Night scenes are glossy black, shadow detail is outstanding, and overall sharpness can only be niggled at critically. The slightly blue color palette is pure Mann. It's accurately represented on the DVD. The Dolby Digital 5:1 sound is dynamic, extraordinarily directional, and brilliantly edited. During each of the heists and the one burglary, powerful or detailed sound enhances the sequence. The major set piece is a symphony of pump gun blasts, shattered glass, and screeching tires which fills the home theater with an assault of the senses. Heat's a great film done proudly by a great medium.
The Feature Archive has articles ranging from John Ford to Blonde Bimbos, Akira Kurosawa and Frank Darabont.



Click on the image above to access The Heistmasters, a view of the best directors of the heist.
Check out the Movie Poster Archive for short bios and images of Susan Hayward, Kirk Douglas, Katharine Hepburn and many more. This month's featured star is Clark Gable.
Imaging Science Foundation


The Imaging Science Foundation promotes proper standards in home theater viewing. ISF trained technicians offer monitor calibration services to consumers. The difference in a properly calibrated monitor can be astounding. Click on the image to find an ISF member near you.
HOT LINKS
DVD Verdict
They may be judgmental, but that's the point, isn't it. Lots of DVD reviews plus news and more
Home Theater Reference Reviewing System



When you read a DVD review it's of utmost importance to know what equipment is being used to evaluate quality. Click on the projector to find out more.
The Home Theater Forum
Looking for lively and helpful exchanges on home theater, DVD, movies. Visit this friendly site and get a hardy welcome.