Doug Liman is a director with energy and like Limanís first feature, Swingers, Go is infused with a charge of electric creativity. Liman makes Go go. Goís primary strength is its broad black comedy. When itís funny, itís really funny. But thereís also a very nasty element of harsh reality thatís not remotely funny and thatís a Go component too, perhaps taking down the viewing experience a notch.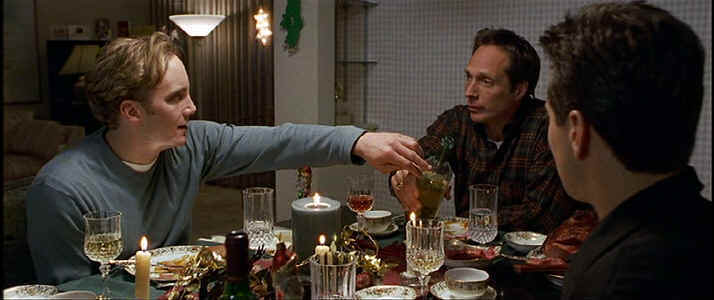 Not your typical Sunday dinner. ©Columbia
Once again Limanís camera looks at the life of twenty-something young people searching for themselves. This time around thereís plenty of drugs, some strange cops, another trip to Las Vegas with hilarious results and some hoods
Go would have worked much better for me if I liked the characters. One by one they are almost without redeeming qualities save Claire who at least shows signs of integrity. At the same time I understand that these characters may change. Perhaps the experiences of youth will build better people. Letís hope so.
Framed in similar fashion to Pulp Fiction, Go tells itís story from the various points of view of its main characters with starting points repeated with each interlocking episode.
This is a snappy DVD transfer that delivers the goods with the same zip that moves the film along. Colors are consistently strong, the image is never less than sharp. The Dolby Digital 5:1 surround is lively with outstanding, quick bass highlighting the terrific accompanying music.