F/X/B+,B
MGM/1986/108/WS 1.85, PS 1.33
Rollie Tyler knows his way around guns, explosives, weapons of imaginative design. Tyler is a movie special effects expert who gets a charge out of his work. The artful use of squibs exploding blood from a bullet wound or the artful cleaning of an aquarium tank are pleasures of Rollie's world. Rollie can make a babe in a clinging white dress explode in a blood of bath. His command of make-up can make someone disappear in a crowd or morph into a homeless person. But Rollie's guns fire blanks in the movies and the guys he's working with now are playing with the real thing.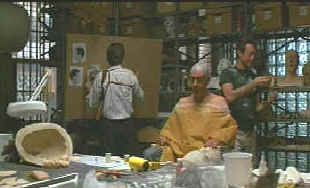 Rollie plies the art of mask-making. ©MGM
F/X is a terrific concept for a film. Special effects specialist Tyler has all the goods to make a fine hero. Robert Mandel's direction and the script by Robert T. Megginson and Gregory Fleeman are bursting with energy. The timing is precise and little action is wasted. Thoroughly entertaining are
As Rollie is swept into a pit of vipers, not everything is totally believable, but the plot moves at a rapid pace leaving little time to contemplate the questionable calls that Rollie makes or the fact that he starts out as a shivering mass of frightened jelly in the rain and ends up an ice cool assassin of the night. Right, and man, can this guy drive a huge van like a sports car. In another life he must have been a stunt driver or at the very least an Indy 500 power driver. But the chase is fun and is executed with style, using a truckload full of F/X tricks.
Bryan Browne gets the chance of an actor's lifetime playing Rollie. Brown, athletic and everyman, wears the hero skin like a snake charmed out of a basket of movie tricks. Brian Dennehy is an outstanding choice as well in the role of police detective Leo McCarthy. Though they share little screen time together, Mandel makes the wait for their initial meeting well worthwhile.
MGM's DVD transfer is clean and pretty sharp. Some of the grain appears too static, almost appearing as a mask of fine dirt over the film. Colors are good and skin tones match well with Rollie's make-up chores. There are no noticeable edge enhancement problems and straight lines are kept stable. Overall, the transfer lacks some snap that may have been achieved with a greater contrast range, though shadow detail is fine. Separation on this Dolby Digital 2.0 matrixed mix is quite good. Action explosions pack enough punch and the music spreads well across the theater front.

Check out these selections from our DVD Review Archive. New releases are constantly in our face, but catalog gems should not be forgotten.

The Movie Poster Archive include extensive poster images from the films of stars like Susan Hayward, Kirk Douglas, Katharine Hepburn and many more. This month's featured star is Doris Day.
---


Kinoeye Archive
This is a resource of all content-rich materials on the web relating to Central and East European cinema. The ultimate aim of the Kinoeye Archive is to provide a near-as-damn-it definitive index of intelligent and thoughtful English-language analysis of Central and Eastern European cinema on the web.
---

Images is a non-commercial Web site created for everyone who enjoys movies and popular culture. Images is published quarterly; however, new reviews will appear each week, so check back often.
---

Specializing in DVD reviews, DVD Authority boasts almost 400 reviews in an easy to use, elegant, interface.
---
shopforacomputer.com
Offering home theater and DVD links, photos, product reviews, on-line purchasing information and top-brand comparison shopping.
---