Friends and Lovers/D-,C-
Universal/1999/104m/FS 1.33
I am amazed how something as puerile and unfunny as Friends and Lovers wound up being made. Are we back in the days when a bogus offshore plot to create tax losses lured investors to movies made to fail? I know the answer lies somewhere outside of the comprehendible.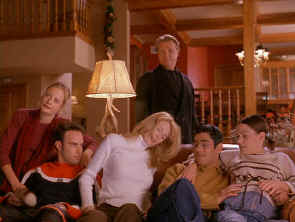 Dad looks oversees the chalet action. ©Universal
A group of twenty-something buddies moves their annual Christmas celebration to the ski slopes at the invitation of Ianís estranged father. Free skiing everyone! Like wow, these young folks really look like the attraction of free skiing will get their motor racing. Jon even drives a Mercedes. Give the audience a break. Once at Dadís vacation chalet, the girls and the guys are separated by 1950ís production code regulation, but believe me, this isnít Beach Blanket Bingo on the ski slopes. Actually, the later film was vastly superior.
The acting is often embarrassing. Is this a comedy or an example of comic ineptitude? Richard, the father of the piece, who thinks itís okay to put a metal can in the microwave, is like a refugee from a long ago mental experiment gone awry. I am not sure if it is the character as written, or the actor, or the director. Any one of them could be equally responsible.
Among the guilty actors is Stephen Baldwin, who is funny at times, Robert Downey, Jr. over the top on the slopes, Claudia Schiffer, looking delicious at least, Neill Barry, who is willing to expose himself for less than art, and Danny Nucci acting very fey. David Rasche is papa Richard. Director George Haas has an empty script to work with from the pen of Neill Barry.
Numerous scenes are marred by soft focus. The unexceptional photography is highlighted by color fringing in several scenes. Dolby Digital 2-channel surround is clear with upbeat music. interaction with a charming five-year-old provides more opportunities for Sandlerís brand of childish humor.