Eyes Wide Shut(SE)C+,B+
Warner/1999/159/FS 1.33
I am not really sure what to make of Eyes Wide Shut. I never really buy the concept that the events depict a dream. Try as hard as I might, I found no solid indications in the film that I was watching anything other than one man's abbreviated odyssey of sexual desire. The slow pacing smacks of self-indulgence. How many turns around the dance floor does Alice Harford need to make with the would-be Hungarian lover with the mellifluous voice?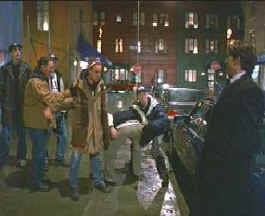 Late night niceties. ©Warner.
The driving force behind Bill Harford's sexual odyssey, seduced into a voyeuristic voyage of the night with casual ease, is never firmly established. Who in his right mind, even an all-powerful doctor, knocks on the door of a costume shop owned by a patient of his at sometime past midnight and when he opens his wallet to present his AMA identification card, it's like a police badge or something. Dubious logic is in force at the mansion orgy as well. There are times when Harford acts like he's play acting a dirty Hardy Boy mystery.
Some of the explorations of the male/female relationship are interesting, and often very honest. Kidman's long, bedroom monologue about her sailor fantasy is well done, but, it is slow, reflecting against he overall pacing of the film.
Production design is often powerfully sexual and accompanied by a striking score with sharp chords falling like an ax to define the action, these elements along with the lush cinematography, provide the biggest kick from Eyes Wide Shut, often overwhelming the thinly constructed story elements..
Cruise and Kidman are both fine as Bill and Alice Harford, though Cruise seems rather callow for a doctor in his position, though maybe there's something more to that. This is one off-screen married couple that make a believable couple on screen. Kidman has never been as sexy and Cruise moves into what may be his first mature role with grace and confidence. I found myself feeling slightly voyeuristic watching a married couple performing on screen due diligence. Even Sydney Pollack does a nice turn as the super rich Harford patient Victor Ziegler.
A Kubrick film project brings a certain import to it before it's even made. Such was the case with Eyes Wide Shut, and the fact that mega stars Cruise and Kidman opted to dedicate themselves to the Kubrick project, brought even more attention to the project. Conjecture about the film's explicit sexual content created a hot Hollywood buzz long before the film finally opened after the director's death. And Kubrick's untimely death even created more of a controversial aura around his movie. Eyes Wide Shut is definitely worth seeing, though it will more likely induce sleep as opposed to arousal for most viewers. And yes, this is the R-rated version replete with the CGI added figures obscuring some of the more sexual moments, though I personally think it means next to nothing for the production.
The DVD has the same luxurious look reflected in the production design. Colors spring to life with strong vitality. Wood patinas are rich, nights are deep black and skin tones have a wide range. Contrast range is bold and the DVD is mostly very sharp, though a few scenes are slightly soft. The 1.33 framing seems natural to the material. The Dolby Digital 5:1 surround mix mostly benefits the score. It's consistently open and powerful. Don't expect much ambient surround info. Packaged as as special edition by Warner, the DVD includes interviews with Tom Cruise , Nicole Kidman and Steven Spielberg.


Gary Morris's insightful publication Bright Lights Film Journal turns the celluloid in films from a unique perspective. Click on the image above for more pure movie views.
---

Frank Darabont is the cover interview in the current online issue of Fade-In Magazine. Check it out along with other savvy features of this excellent book.
---

Images is a non-commercial Web site created for everyone who enjoys movies and popular culture. Images is published quarterly; however, new reviews will appear each week, so check back often. Feature articles are presented with graphic sophistication.
---


Home Vision Cinema
Classic and foreign motion pictures on VHS tape. The title selection is excellent and informative essays are provided for many of the films.
---

DVDRama is one of France's outstanding DVD resources. Par le vous DVD?
---


The Feature Archive has articles ranging from Akira Kurosawa to Blonde Bimbos and John Ford.



Click on the image of The Heistmasters for an interesting feature on the tough guys that pull off the big jobs.
---
The Movie Poster Archive include extensive poster images from the films of stars like Susan Hayward, Kirk Douglas, Katharine Hepburn and many more. This month's featured star is Kirk Douglas.
---