eXistenZ/A-,A
Dimension/1998/97m/ANA 1.77
What a playful film. It's rare when the filmmaker's delight is communicated so well, and you can feel writer/director David Cronenberg in every precious frame of eXistenZ.
I love the imaginative production design on this film; building on a marriage of high tech and organic elements, the combinations come as delightfully unexpected. Cronenberg's fascination with bizarrely primitive tools in eXistenZ reminds viewers of the strange sensibility that made Dead Ringers a unique experience.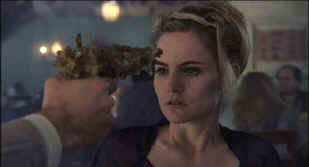 A new kind of gun/game design. ©Dimension
Allegra Geller is a premier game designer. Before marketing her latest imaginative virtual reality creation, the distribution company sets up a preview group to gauge reaction to the game. Geller personally participates with the group and downloads the adventure through game pods into the minds of the group. What is reality and what is the game? The twists and turns of the adventures turns as organically as the hybrid game pods, slithering in and out of sexually suggestive game ports. Everybody shows up in the action that moves at a frenetic pace. If eXistenZ oozes a bit too much gelatin, I have no problem forgiving the filmmaker his delight in excess. Every twist and turn in eXistenZ stays consistent with its computer game thematic structure. There are wildly sexual elements, violence galore and a feast of gore, but through it all the sense of humor remains dominant. At times I wanted to laugh out loud but was caught by surprise by some serious seeming turn in the texture of the film. Like the ultimate gamemaster, Cronenberg plays with his audience, relishing the manipulation. eXistenZ maintains its conceits perfectly. The audience never feels tricked by the twists and turns of plot.
Allegra Geller is an excellent role for Jennifer Jason Leigh. Leigh performances are often marked by excessive energy that can conflict with the subtle elements of her performances. Leigh can communicate so much with a mere glance. She doesn't need excess. The world in eXistenZ is so charged that the actress simply goes with Cronenberg's flow and the result is an outstanding performance. Jude Law is getting some extra duty in thinking man's science fiction. Law, excellent in Gattaca, combines well with Leigh. The always impressive Ian Holm is on hand for a small eccentric role and Willem Dafoe gets to display his entertaining quirkiness in a small role.
This is truly a brilliant anamorphic DVD transfer. The depth is simply amazing. Every detail comes to home theater life with vividness appropriate to the computer game theme of eXistenZ. Though a very dark movie, the light output levels are well balanced; shadow detail is outstanding, contrast provides punch and subtlety. Take a look at the simplest elements; the weave in Jude Law's sweater replete with delicate shadings reflective of the lighting; or the slimy texture of the charming two-headed mutant amphibian. And you have to look far and wide for any evident of edge enhancement, though if you hook into the game port and look real close you might spy a sly and effective use of it. Though the package information lists the soundtrack as Dolby Surround, it is Dolby 5:1 Digital. The surround is powerful, active, and very directional. Expect clarity of detail and full ambiance from eXistenZ on DVD. This is one movie on which I would have loved a commentary track with the director. The plotting and visuals are so rich and Cronenberg's imagination so fertile I can only imagine pure joy in listening to his insights on the making of this film. eXistenZ was a blast!