Excess Baggage/C,B+
Columbia/1997/101/ANA 1.85,PS 1.33
This is pretty dismal movie making despite some interesting performers. While Clueless was a great platform for Alicia Silverstone, Excess Baggage (The first of her production company three picture deal with Sony) proves not to be her bag. Silverstone plays a naughty heiress who will stop at nothing to get the attention of her father. This time she decides to kidnap herself and ask Daddy for a big ransom. Her plot goes awry when she locks herself in the trunk of her car in the final moment of her grand plot and a professional car thief comes along to lift the sharp BMW. Before you can say Jack Daniels you know you'll be in need of a drink to sit through this one. Benecio Del Toro plays the car thief with more baggage than he can handle. The bickering scenes between Silverstone and Toro are supposed to inject life into this vehicle, but they are mostly silly and thoroughly unconvincing. Christopher Walken takes a turn at supplying some interest for the film with a sleepwalking performance as Daddy's clean-up expert. Don't bother to come along for this ride.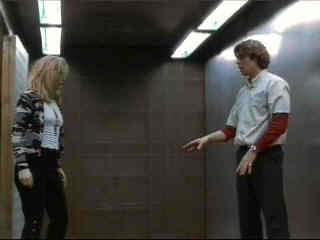 Silverstone and Del Toro, take it or leave it.©Columbia Tristar
Another very good looking DVD compression job from Columbia Tristar. The numerous night scenes are sparkling and the difficult lighting in the grand theft auto warehouse has a nice balance. Colors are accurate and the image is sharp. The Dolby 5:1 surround packs plenty of punch in this very flat movie.
Check out the Movie Poster Archive for short bios and images of Susan Hayward, Kirk Douglas, Katharine Hepburn and many more. This month's featured star is John Wayne. The Feature Archive has articles ranging from Akira Kurosawa to Blonde Bimbos and John Ford.


Click on the image of The Heistmasters for an interesting feature on the tough guys that pull off the big jobs.
HOT LINKS

etown.com
Venerable Internet Magazine etown.com is making a big growth spurt adding veteran home theater writers to their editorial and review staff. Look for many new hardware reviews in the coming weeks.
Classic Movies
Brad Lang movie site continues to be a great tool for Internet surfers and movie lovers. As usual, he's found some interesting links. Check out the link for a fine Japanese site on Kurosawa films.
Home Theater Reference Reviewing System


When you read a DVD review it's of utmost importance to know what equipment is being used to evaluate quality. Click on the projectors to find out more.