Evita/B-,A-
Disney/1996/135m/WS 2.35
There's no argument that Evita is a spectacular production. Though the first dynamic forty minutes are pulsing with energy, director Alan Parker does not succeed in shaping Eva Peron into a sympathetic character. Evita's early potential dissipates into a cold mélange of the preening Eva Peron intercut with acts of violence perpetrated by the various powers of Argentina against its people. Combined with inconsistent musical entertainment, the artificial passion of the screenplay fails to add the needed dramatic ingredient to the Evita mix, preventing the film from reaching full potential.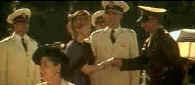 Evita spreads her social wings©Disney
Alan Parker is a director that understands the marriage of music and film extremely well. His previous musical successes include Fame and Bugsy Malone, both brash and vibrant movies. This time Parker is locked into the material at hand and although much of the movie Evita is imaginatively presented, after depicting Eva's determined rise into the circles of Buenos Aires power, Evita falls into a repetitive and mind numbing pattern.
Madonna is fabulous as Evita. She exhibits incredible charisma capturing the flamboyant and resourceful Eva Peron. Watching her deliver the sung dialogue while pouring enormous emotion into her performance is wonderful. Equally dynamic is Antonio Banderas as Che, dealing out a douse of alternate reality to Eva's. Banderas' singing is passionate. He uses his body and facial expressions to embellish every lyric with force of personality. In contrast, Jonathan Pryce is very stiff as Juan Peron. His role stands as a pylon to support the efforts of Madonna.
The music and songs of Evita comprise its real heart and soul. The burst of energy that is "Buenos Aires" is delightfully sung by Madonna with Parker at his best is cutting together the accompanying images. "Good night and Thank You," sung by Banderas and chorus, is often hilarious as it is caustic. "A New Argentina," while melodic and uplifting in spirit, fails to maintain a fluid dramatic narrative, and "Rainbow Tour" is as all over the place as Eva ambassadorial endeavors. And Madonna delivers a powerful "Don't Cry for Me Argentina."
The most difficult barrier I found to enjoying the power of the drama of Evita is that the studio recorded soundtrack lacks immediacy. It's sounds like the voices and actors are unattached. Parker notes that two songs were actually recorded on the set and Pryce's rendition of "She's a Diamond," does seem more natural than the other songs.
Another sharp, well-made DVD from Disney, Evita has vital colors and good contrast levels in a variety of light situations. There is some excess NTSC artifacting due to slight over-enhancement of the sharpness. The 5:1 sound is dynamite. The mix is cleaner and far better than my local big screen theater experience. Explosions pack plenty of punch and lyrics are uniformly clear, albeit hanging somewhere in space.
The Feature Archive has articles ranging from John Ford to Blonde Bimbos, The Heistmasters, Akira Kurosawa and Frank Darabont.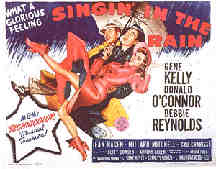 Click on the image above to for a view of Hollywood's great dance musicals. Astaire, Kelly, Rogers and more....

Check out the Movie Poster Archive for short bios and images of Susan Hayward, Kirk Douglas, Katharine Hepburn and many more. This month's featured star is Clark Gable.


Imaging Science Foundation promotes proper standards in home theater viewing. ISF trained technicians offer monitor calibration services to consumers. The difference in a properly calibrated monitor can be astounding. Click on the image to find an ISF member near you.
Home Theater Reference Reviewing System



When you read a DVD review it's of utmost importance to know what equipment is being used to evaluate quality. Click on the projector to find out more.
HOT LINKS
DVD Verdict
They may be judgmental, but that's the point, isn't it. Lots of DVD reviews plus news and more
The Home Theater Forum
Looking for lively and helpful exchanges on home theater, DVD, movies. Visit this friendly site and get a hardy welcome.