Erin Brockovich (SE)/B+,A
Universal/2000/ 132/ANA 1.85
The rhythms of Erin Brockovich are terrific. Soderbergh's sense of timing, knowing when to quit or go further, are uncanny. I have never seen swifter or more efficient montage work in a film. It gets the job done eloquently.
Erin Brockovich is based on the real story of the title character. Brockovich, an out-of-work single mother, practically forces her way to work at the law offices of Ed Masry, the lawyer who had handled her unsuccessful auto accident law suit. She doesn't fit in at Masry's office, but her natural grit and a feisty intelligence lead her to discover some unusual case papers in a simple pro bono real estate deal. There's a bit of girl detective in Erin Brockovich as she seeks out the truth and battles resistance at various roads. But it's a fascinating watch, again brought to beautiful life by Soderbergh's uncanny filmmaking gift. The director consistently raises the film above the raw material.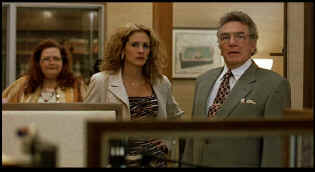 Getting ready to do battle. ŠUniversal
This spirited tale is based actual events with a protagonist that just never gives up. Erin Brockovich's indomitable spirit is captured with charm and energy by Julia Roberts. This is possibly Julia Roberts' best screen role, certainly her best dramatic achievement. Roberts brings a terrific humor to the character, even when things are not going her way. It's easy to cheer for Erin to succeed, and even when she's not totally in the right, Roberts makes her so engaging, you never stop siding with her. Albert Finney, other than a couple of too cute flourishes, makes a perfect Ed Masry.
Erin Brockovich has two romances going for it. Erin's personal life and romance is filled in by next door neighbor, biker George, leather jacket, tattoos and all. George is often too good to be true and there are some gaping holes in their relationship. But this is the proper material to sacrifice. Aaron Eckhart gives another credible performance, though he's left out in the cold far too much. But the real romance of Erin Brockovich is between Masry and Brockovich. No, it's not what you would call a traditional romance, but there's certainly a seduction going on and Roberts and Finney makes the sparks fly with more good humor.
Positively filmlike, the transfer includes a great variety of lighting situations and unfailingly presents them with life. There is no edge enhancement whatsoever and no excess noise in the picture. Colors are lively, accurate, and stable. Flesh tones are presented in a wide and subtle spectrum. The on-target quirky score from Thomas Newman enhances the production and is recorded on the DVD with nice separation and excellent level control. . Once again, cinematographer Ed Lachman's collaborative work with Soderbergh delivers the goods and is captured to perfection on this very fine DVD.
The heart of the special edition are 25 deleted scenes that can be played with or without the commentary of director Steven Soderbergh. The scenes are all good, but you can see that they don't really advance the film or make it better. Some are funny, some are poignant, but is the film better for them. It's a tough call a filmmaker must always make, and in this case, Soderbergh's ruthless selection brings a natural length to the film.


Selections from the feature archive include articles on Akira Kurosawa, Frank Darabont, Blonde Bimbos, Hollywood Street Gangs, or Vietnam: The Hollywood Pariah, and many more....
The Exquisite Muse of Zhang Yimou



The powerful image-making of Zhang Yimou has revealed itself in virtually every film he has made. Coupled with his remarkable collaboration with actress Gong Li, Zhang's has built a stunning body of work Click the image to read all about it.
---



Cyber Theater is an outstanding source for accurate video information. Check out their 16 x 9 format guide for a thorough understanding of DVD encoded that way.
---



The Big Combo has style to spare in reviewing films and producing feature articles. Check out their special "Lingo" section.
---


The DVD Answer Man is a new site devoted to spreading the DVD gospel. Answers to questions, reviews, links and more....
---


The official site for information about the great comic director. A treat for connoisseurs of classic Hollywood madcap.
---

The online site for Film Comment Magazine includes all the information you need to know about cinematic events sponsored by the Film Society of Lincoln Center.
---

The Movie Poster Archive includes extensive poster images from the films of stars like Susan Hayward, Kirk Douglas, Katharine Hepburn and many more. Our featured star is Lana Turner.
---