Edge,The/B+,B+
Fox/1997/120/WS 2.35
The Edge is unusual film fare. Take a group of city sophisticates on an unusual fashion shoot and dump them in the Alaskan wilderness to survive. That's just the appetizer. One of the survivors is a billionaire businessman extraordinaire. Not only is he a money making machine, he's a walking encyclopedia of minutiae. Another survivor is a hip fashion photographer, who's star model is also the gorgeous wife of, you guessed it, the billionaire.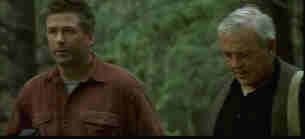 Surviving the wilderness and each other. ©Fox
Anthony Hopkins plays billionaire Charles Morse with more than enough polish and certainty to be convincing, though there are times when his physicality is less than inspiring. Alec Baldwin is the photographer Robert Green. While Baldwin may not fit the stereotype of a fashion photographer, he's terrific in The Edge. Baldwin is at his very best when most vulnerable in this film. Elle MacPherson adds some real glamour to the picture and L.Q. Jones has some nice interplay with Hopkins.
Directed by Lee Tamahori (Once Were Warriors, Mulholland Falls), The Edge features glistening nature photography by Don McAlpine, worthy of a fashion shoot, and some very ferocious animal confrontation scenes. There's some repetition in the tale and when The Edge makes it's last big move, a measure of honesty seems to deflate its effectiveness, but it's a very entertaining film. The prolific Jerry Goldsmith turns in another pulsing and exciting score.
Fox has turned out a handsome DVD from the beautifully shot source material. Images are very sharp without creating a mess of artifacts. Color fidelity is excellent. The green forests are rich in depth and the black nights are lit perfectly by fire's glow . The Dolby Digital 5:1 surround mix is excellent. Man, when that bear comes charging out of the trees, look out.

The Feature Archive has articles ranging from Akira Kurosawa to Blonde Bimbos, The Heistmasters and Frank Darabont.


Read about Hollywood's hesitant view of the Vietnam war. Click on the image for more.
Check out the Movie Poster Archive for short bios and images of Susan Hayward, Kirk Douglas, Katharine Hepburn and many more. This month's featured star is Clark Gable.


Imaging Science Foundation promotes proper standards in home theater viewing. ISF trained technicians offer monitor calibration services to consumers. The difference in a properly calibrated monitor can be astounding. Click on the image to find an ISF member near you.
HOT LINKS
National Preservation Film Board
Learn about what this organization is doing to preserve our film heritage. Want to know the guidelines for proper handling of film? This is the place.
Home Theater Reference Reviewing System



When you read a DVD review it's of utmost importance to know what equipment is being used to evaluate quality. Click on the projector to find out more.