Donnie Brasco/B+,B+
Columbia Tristar/1997/127m/ANA 2.35
"I'm like a spoke on a wheel and so are you, Donnie.," Lefty tells his friend. This is the Al Pacino performance that people should be talking about; not The Devil's Advocate. Pacino nails Lefty in Donnie Brasco. Everything is right. And Johnny Depp turns in a solid performance in the title role, bringing his scenes with Pacino to street life.
This story of the Mafia through from the perspective of an undercover FBI agent, as directed by Mike Newell, has a fresh look from the Scorcese directed mob flicks to which we are accustomed. Newell floats his story with the grace of a conductor guiding a symphony orchestra. The result is excellent filmmaking and riveting story-telling.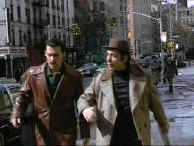 Learning the ropes. ©Columbia Tristar
This fine looking DVD is presented anamorphic 2.35 widescreen. There are some minor MPEG artifacts in some skyline scenes, but otherwise images are sharp and colors accurate. The intensity of color in the Miami sequences contrast well with the bluer hues of the New York streets. The Dolby 5:1 mix is consistently clean, but surround info is not overly aggressive.
The Feature Archive has articles ranging from John Ford to Blonde Bimbos, Akira Kurosawa and Frank Darabont.



Click on the image above to access The Heistmasters, a view of the best directors of the heist.
Check out the Movie Poster Archive for short bios and images of Susan Hayward, Kirk Douglas, Katharine Hepburn and many more. This month's featured star is Clark Gable.
Imaging Science Foundation


The Imaging Science Foundation promotes proper standards in home theater viewing. ISF trained technicians offer monitor calibration services to consumers. The difference in a properly calibrated monitor can be astounding. Click on the image to find an ISF member near you.
HOT LINKS
DVD Verdict
They may be judgmental, but that's the point, isn't it. Lots of DVD reviews plus news and more
Home Theater Reference Reviewing System



When you read a DVD review it's of utmost importance to know what equipment is being used to evaluate quality. Click on the projector to find out more.
The Home Theater Forum
Looking for lively and helpful exchanges on home theater, DVD, movies. Visit this friendly site and get a hardy welcome.