Dick(SE)/B+,A
Columbia/1999/94m/ANA 1.85,FS 1.33
Dick's inventive and often hilarious plot revolves around two ditzy high school girls who inadvertently stumble into the Watergate burglary. A second chance meeting with G. Gordon Liddy at a White House tour leads to a remarkable relationship with the girls and the Nixon government. Tricky Dick summons up all his charm over the fair sex to make the girls Nixon fans. They even become the official White House Dog Walkers. For those of you who liked Romy and Michelle's High School Reunion, Dick will tweak your funny bone.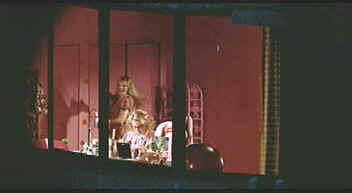 Dance of the Watergate virgins. ©Columbia
The hilarity does not stop at the White House, happily, but reaches into the corridors of the Washington Post and down even deeper to clandestine meetings in the night with a pair determinedly dense reporters named Woodward and Bernstein.
The girls are high-stepping, giggly, and gloriously bathed in a foggy haze of innocence. Kirsten Dunst is fine as Betty and Michelle Williams has some grand line reading as Arlene. But Dick really erupts when Dan Hedaya is on screen. Hedaya does a unique Nixon, not too long on imitation, but thorough in extracting the last ounce of humor from every Nixon foible. Adding able support is Dave Foley as Halderman and Saul Rubinek doing a dandy Henry Kissinger.
Andrew Fleming has experience directing teenage girls, but The Craft was not exactly high comedy. Fleming shows a gift for comic pacing. Dick moves like a missile launched from the White House.
Andrew Fleming and Dick is a gorgeous DVD eye-candy . Within a few minutes you'll forget you are watching video. The intense colors pop off the screen and are well-controlled and defined. No fuzzy edges here. Background details are kept in sharp focus, newspaper headlines are comfortably read. Contrast ratio is outstanding. Bright daylight scenes are alive with the warmth of the sun and interiors have easy to view lighting. The darkest scenes provide excellent shadow detail. You won't want to miss any of the delicious dialog and it's transparently clear in the Dolby Digital 5:1 encoding. The only thing that may drown out some of the details is the sound of your own laughter.
The Feature Archive has articles ranging from John Ford to Blonde Bimbos, The Heistmasters, Akira Kurosawa and Frank Darabont.



Preston Sturges was Hollywood's resident comic genius for more than a decade. His movies are timeless. Click on his image to read all about it.

Check out the Movie Poster Archive for short bios and images of Susan Hayward, Kirk Douglas, Katharine Hepburn and many more. This month's featured star is Clark Gable.

]Imaging Science Foundation


The Imaging Science Foundation promotes proper standards in home theater viewing. ISF trained technicians offer monitor calibration services to consumers. The difference in a properly calibrated monitor can be astounding. Click on the image to find an ISF member near you.
HOT LINKS
DVD Verdict
They may be judgmental, but that's the point, isn't it. Lots of DVD reviews plus news and more
The Home Theater Forum
Looking for lively and helpful exchanges on home theater, DVD, movies. Visit this friendly site and get a hardy welcome.
Home Theater Reference Reviewing System



When you read a DVD review it's of utmost importance to know what equipment is being used to evaluate quality. Click on the projector to find out more.