Dancing at Lughnasa/B-,B+
Columbia/1998/95m/ANA 1.85
A warmly woven tale of five sisters living in a small Irish village in 1936, Dancing at Lughnasa succeeds mainly for the fine ensemble acting. The cast is uniformly at ease with the Irish setting and makes the days of one eventful summer bask in the warm glow of memory.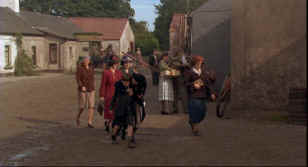 Meeting Father Jack. ©Columbia
Not much happens in this small Irish village as the world is changing around it. But the events of this one summer will change the lives of one family forever. Father Jack, the eldest, returns from many years of African service with eerily altered sensibilities. Gerry, middle sister Catherine's estranged husband, sweeps back into their lives out of the dust haze of his motorcycle. Kate finds her job is threatened. The youngest, simpleminded Rose, finds her primal urges begin to take hold of her. Change is in the air and forces begin to play on the simple household that cannot be stemmed.
Pat O'Connor directs with the ease of a comfortable storyteller. Each character is given fine moments without stopping the flow of the film. The sisters depend on one another and so do the actresses in this film. Playing off each other, they create a screen family with which audiences can sympathize. Yet, the film fails to ignite any real passion or emotion. O'Connor strives for a spiritual sense that never materializes. There's only fuzzy sentimental warmth. The women survive in less than grand circumstances, finding joy and pain in each other, in the daily boredom of life.
The lovely country settings are lush and green and bathed in a warm light of remembrance. The cinematography is as straightforward as the storytelling. Clean composition, fine lighting and a wistful lens make Dancing at Lughnasa visually beautiful.
Meryl Streep plays eldest sister Kate with dour sincerity. Catherine McCormack, the outspoken courtesan of Dangerous Beauty, is pretty and sincere, but the most interesting performances are from a fresh trio of faces playing the three plainest sisters. Kathy Burke, Sophie Thompson and Brid Brennan embody the frustrations, desires, and simplicity of these small town Irish folk. Michael Gambon lends wanders in and out of reality effectively as Father Jack and Rhys Ifans is energetic and likeable as Gerry.
Dancing at Lughnasa has been turned into a splendid DVD. The anamorphic widescreen images are sharp and as clean as can be. There's no artificial enhancement to add noise to the skies or trees or fields of grass. The interior lighting of the Mundy cabin caresses the actresses in the most flattering light. This is a bright and colorful transfer. The Dolby Digital 2-channel surround sound has little surround information, but the music is lively and fills the theater comfortably.