Cradle Will Rock/B,A
Touchstone/1999/134/ANA 2.35
Tim Robbins' sprawling, ambitious film about 1930s America, the Depression and the Federal Theater Project is often fascinating, succeeds brilliantly with casting, and alas, also fails miserably with casting.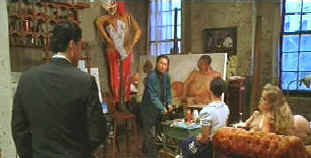 Rockefeller seeks out Rivera. İTouchstone
The film alternates between various related plotlines. The central plot focuses on the Federal Theater's production of Mark Blitzstein's Brechtian union/strike themed musical, Cradle Will Rock. Welles directs, Houseman produces, hungry actors perform from a variety of motivations. In the meantime, Nelson Rockefeller seeks out and hires great Mexican muralist Diego Rivera to paint the central mural for Rockefeller Center, while head of the Federal Theater Project, Hallie Flannagan must contend with the odious Dies Congressional Committee investigating un-American activities in the arts. Behind the scenes at the Federal Theater Project, clerk Hazel Huffman busily snipes at the communist elements within the program and pathetic vaudeville ventriloquist Tommy Crickshaw woos Huffman while vainly trying to train a pair of actors in his wooden art. Steel Magnate Gray Mathers is buying up precious Italian art for himself and friend William Randolph Hearst and waif Olive Stanton is relishing her big acting break and clinging to a relationship with union representative John Adair.
John Turturro soars as a proud Italian/American actor, who defies economic survival for what he believes in. Susan Sarandon is wonderfully worldly as Italian emissary Margherita Sarfatti, selling art under the table for Mussolini and interceding for Nelson Rockefeller with artist Diego Rivera. Ruben Blades does solid work as muralist Rivera, battling for his vision, and John Cusack, always energetic, is convincing as young Nelson Rockefeller, though a trifle too plebian. Vanessa Redgrave brings a startling ebullience to Countess LaGrange, the wife of steel magnate Gray Mathers, ably portrayed by Phillip Baker Hall. The chief casting failure is Angus MacFayden as Orson Welles. What was Robbins thinking. MacFayden lacks any semblance of the onscreen power emitted by Welles, and in one of the pivotal roles in Cradle Will Rock, the miscasting clearly rocks the foundations of the movie. Welles producing partner John Houseman as interpreted by Cary Elwes is more fey than effete and the Welles/Houseman relationship is more a battle of bitchiness than the intellectual sparring one would imagine. Bill Murray brings a wooden strangeness to Tommy Crickshaw. Much of it is marvelous ensemble acting. Hank Azaria plays Mark Blitzstein with a hunger and a hollowness that capture a sense of the depression and exhilaration of the period.
Part of the problem with Cradle Will Rock is that it tries to touch on so many characters, they are mere cardboard mock-ups for the sake of the film canvas. Glimpses into the lives, intrigues, loves and passions are so fleeting as to only whet the appetite for more. Robbins cutting between the various elements is at times too aggressive, robbing any element of the flow it needs to build strength. The photography is outstanding and Robbins gets so many good performances from the actors. This one really could have been terrific with a few casting changes and a more ruthless focus.
The broad Robbins landscape of Cradle Will Rock is exquisitely realized on DVD. Colors are brilliantly saturated and perfectly controlled with no bleeding or smearing. Flesh-tones are offered up with natural subtleties in tact. Details are illuminated to consistent perfection. Shadow detail is never less than perfect. The Dolby Digital 5:O Surround Sound is clean, upbeat and matches well with the imagery. A short making of feature is included.

The Movie Poster Archive include extensive poster images from the films of stars like Susan Hayward, Kirk Douglas, Katharine Hepburn and many more. This month's featured star is Tyrone Power.
---


Selections from the feature archive include articles on Akira Kurosawa, Frank Darabont, Blonde Bimbos, Hollywood Street Gangs, or Vietnam: The Hollywood Pariah, and many more....

Film noir: The phrase hangs awkwardly on the tongue, shadowy images peek out from behind half-closed doors. Click on the Noir and Noir Again symbol for a look into the dark spaces of Hollywood's revisiting of film noir.
---


Gary Morris's insightful publication Bright Lights Film Journal turns the celluloid in films from a unique perspective. Click on the image above for more pure movie views.
---

Sight and Sound Magazine is the venerable voice of The British Film Institute. The site includes articles and film reviews. A great resource in print and on the Internet.
---

A love of movies drives this small DVD production company, Synapse Films. Currently specializing in horror and cult films. Watch for new DVD releases of film festival independents as Synapse branches out.
---

Kinoeye Archive
This is a resource of all content-rich materials on the web relating to Central and East European cinema. The ultimate aim of the Kinoeye Archive is to provide a near-as-damn-it definitive index of intelligent and thoughtful English-language analysis of Central and Eastern European cinema on the web.
---