Cookie's Fortune(SE)/C+,B
October/1999/118m/WS 1.85, FS 1.33
Cookie's Fortune is set in a small Southern town ripe with eccentricities that make the South a favorite of filmmakers looking for the precious and off-beat. Robert Altman brings his rambling style of filmmaking to Cookie's Fortune, introducing more characters in a few minutes than most films can reasonably support. This is mediocre Altman, lacking the bite and sharp wit that much of his work contains.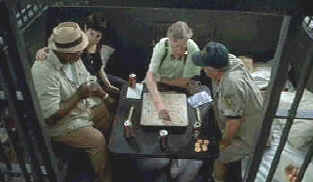 Scrabble in a cell. ©Universal
Following the fortunes of Cookie and Willis, Camille and Cora, and Emma and Jason, Altman skillfully combines the various stories into one. Cookie's Fortune is comedy based on the dysfunctional nature of its characters. The comic plot is contrived. The direction taken by Cookie's Fortune was not wholly satisfying. The best moments in Cookie's Fortune involve Cookie and Willis. Cookie has all too little screen time and the banter between she and her Willis is delicious. .
Patricia Neal is lovely as Cookie. I was amazed at her screen presence after all these years. Just think, fifty years ago the actress was starring in films like The Fountainhead and The Day the Earth Stood Still. And now, many years after a debilitating stroke, she still lights up the screen. Charles Dutton makes Willis a grand character, full of unexpected wisdom and love. Liv Tyler is totally appealing as Emma and Glenn Close gets to be her nasty screen self as Miss Camille and Julianne Moore is spaced out as Cora.
Cookie's Fortune is presented in both a Full Screen 1.33 version and a widescreen 1.85 letterboxed version on this DVD from USA Home Entertainment. Colors are well defined with rich blacks and subtle textures in the darker scenes. Detail is mostly excellent with a few soft moments that are hardly noticeable. The film has a clear Dolby Digital 5:1 Surround track with some ambience detail. The pyrotechnics here is in the dialogue. Robert Altman focuses mainly on story points in his audio commentary. Expect some long silences between insights. Access the commentary from the language selection menu.
The Feature Archive has articles ranging from John Ford to Blonde Bimbos, The Heistmasters, Akira Kurosawa and Frank Darabont.



Click on the image above to learn more about the effect of an actor's voice on his screen persona.

Check out the Movie Poster Archive for short bios and images of Susan Hayward, Kirk Douglas, Katharine Hepburn and many more. This month's featured star is Clark Gable.
Imaging Science Foundation


The Imaging Science Foundation promotes proper standards in home theater viewing. ISF trained technicians offer monitor calibration services to consumers. The difference in a properly calibrated monitor can be astounding. Click on the image to find an ISF member near you.
HOT LINKS
DVD Verdict
They may be judgmental, but that's the point, isn't it. Lots of DVD reviews plus news and more
The Home Theater Forum
Looking for lively and helpful exchanges on home theater, DVD, movies. Visit this friendly site and get a hardy welcome.
Home Theater Reference Reviewing System



When you read a DVD review it's of utmost importance to know what equipment is being used to evaluate quality. Click on the projectors to find out more.