Castle, The/B-,D
Miramax/1997/84m/ANA 1.85
Lets deliver the worst news first. The Castle is a travesty of a transfer, with such soft focus it is actually difficult to watch and enjoy. Its worth a recall. The good news is The Castle is an entertaining film, small in scope and of limited ambition that stays on course like a 747 making a three-point landing.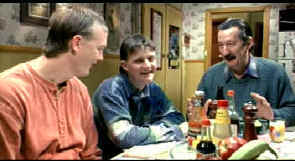 Dad regales the boys about work. ©Miramax
A family living in a community located on the edge of an airport runway are oblivious to the sounds of the planes, to the diminished value of their homes. This is their little bit of paradise. Dad is forever chipper, making the best out of every situation. until the important one, that is. Hes proud of his daughter who has earned a degree from beautician school; he is forever exchanging banter with one son over the cost of items in a local trading paper; and he regales the family with tales of his day driving a tow truck. Dad has a grand attitude about his life. He can accept most anything that comes along with a laissez-fare blitheness, anything but losing his home. With Dad's dander up, the fight against a big real state developer has just begun.
In the tradition of tight little comedies, The Castle keeps its focus on the straight and narrow. This is the classic little guy against the corporate giant tale, but the twist is the strange behavior of the little guys in The Castle.

Aside from the abominable focus, colors on the DVD are very pleasing. The transfer is bright. The Dolby Digital 5:1 sound is clear and the accented dialogue is fairly easy to understand.
The Feature Archive has articles ranging from John Ford to Blonde Bimbos, The Heistmasters, Akira Kurosawa and Frank Darabont.


Click on the image above to learn more about the effect of an actor's voice on his screen persona.

Check out the Movie Poster Archive for short bios and images of Susan Hayward, Kirk Douglas, Katharine Hepburn and many more. This month's featured star is Clark Gable.
Imaging Science Foundation

The Imaging Science Foundation promotes proper standards in home theater viewing. ISF trained technicians offer monitor calibration services to consumers. The difference in a properly calibrated monitor can be astounding. Click on the image to find an ISF member near you.
HOT LINKS
DVD Verdict
They may be judgmental, but that's the point, isn't it. Lots of DVD reviews plus news and more
The Home Theater Forum
Looking for lively and helpful exchanges on home theater, DVD, movies. Visit this friendly site and get a hardy welcome.Home Theater Reference Reviewing System

When you read a DVD review it's of utmost importance to know what equipment is being used to evaluate quality. Click on the projectors to find out more.