Candyman/B,B
Columbia/1992/98/ANA 1.85/FS 1.33
There are plenty of ways to rate a horror flick, but on the scream scale, Candyman is front rank. There were four or five times that an involuntary blast exploded from my throat and I nearly tipped the cushy home theater chair over responding to the fright timing of director Bernard Rose. Rose uses sound for maximum effect in distilling chills from the material of Candyman.
There's probably far too much girl detective in Candyman. I found hard to believe that doctoral candidate Helen Lyle and her friend Bernadette were dense enough to venture into obviously dangerous dark places. The script also by Rose is from a Clive Barker short story. Researching urban legends is at the heart of this darkness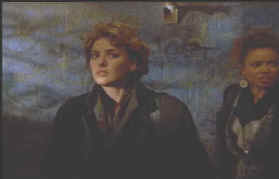 Waiting for the man! ©Columbia
Virginia Masden is effective as doctoral student Helen Lyle researching urban legends. Kasi Lemmons is fine as a loyal friend and Tony Todd is memorable as the sweet guy of the title.
Theres some classy ingredients mixed in this horror brew. The score from New wave classicist Phillip Glass emphasizes the intensity the characters are experiencing.
There's a fare amount of pop in the transfer, though shadow detail might have revealed slightly more, though maybe the fright level would have dimmed. Color is good, saturation natural. Resolution is consistently fine. Strong blacks and good flesh tones. The Dolby Digital Surround is mostly kept in toe until director Rose chooses to rock your chair. It's effective..


The Feature Archive has articles ranging from Akira Kurosawa to Blonde Bimbos.


Movie Rage: Death in the Aisles
Everyone knows what it feels like to get angry at the movies these days. Here's a humorous but not so delightful view of big screen misery.
---



DVDPlanet is the DVD incarnation of legendary laser retailer Ken Crane's. Deep discounts and serious service.
---
Brad Lang continues to add more interesting material to the extensive collection at Classic Movies. Everything from actors and actress to your favorite directors is linked at the site.
---


News, information, features about current films in theaters and in the pipeline. Easy to use interface.
---


The DVD Forum is an international association of hardware manufacturers, software firms and other users of Digital Versatile Discs (the "DVD Format"), created for the purpose of exchanging and disseminating ideas and information about the DVD Format and its technical capabilities, improvements and innovations.
---

The Movie Poster Archive includes extensive poster images from the films of stars like Susan Hayward, Kirk Douglas, Katharine Hepburn and many more. Our featured star is Doris Day.