Bullitt/B+,B
Warner/1968/114m
Bullitt's dramatic pursuit through the San Francisco streets is the quintessential movie car chase. It's still as exciting today as it was when filmed 30 years ago. And, it's not overly long or over the top. You can smell the San Francisco streets under Peter Yates crisp direction.
Steve McQueen, of course, is the big kahuna in Bullitt. McQueen's cool is perfectly suited to the rebellious detective Frank Bullitt. Similar stories about witnesses in protective custody has been done in the intervening years, but this one's simple and straight forward. Robert Vaughn's ambitious bureaucrat may be slightly unctuous, but compared to screen heavies these days, he's a smoothie.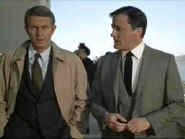 Cool McQueen and nasty Vaughn. ©Warner
The Warner DVD uses relatively good elements for the transfer. Colors are less vital than I would like and there are scenes that have excess grain, but generally, Bullitt looks good. The anamorphic 1.85 transfer serves the film well, providing maximum detail. The Dolby Digital 2-channel sound is fine.
The Feature Archive has articles ranging from Akira Kurosawa to Blonde Bimbos, The Heistmasters and Frank Darabont.



Click on the image above for a "dream interview" with director John Ford.
Check out the Movie Poster Archive for short bios and images of Susan Hayward, Kirk Douglas, Katharine Hepburn and many more. This month's featured star is Clark Gable.


Imaging Science Foundation promotes proper standards in home theater viewing. ISF trained technicians offer monitor calibration services to consumers. The difference in a properly calibrated monitor can be astounding. Click on the image to find an ISF member near you.
HOT LINKS
National Preservation Film Board
Learn about what this organization is doing to preserve our film heritage. Want to know the guidelines for proper handling of film? This is the place.
Home Theater Reference Reviewing System



When you read a DVD review it's of utmost importance to know what equipment is being used to evaluate quality. Click on the projector to find out more.