Bowfinger(SE)/B,A-
Universal/1999/97/ANA 1.85
Steve Martin wrote the script and stars in Bowfinger, an irreverent and likeable comedy that throws its spears at Hollywood with gleeful abandon. Bobby Bowfinger is a movie producer working out of a dilapidated house bearing the logo of Bowfinger International Pictures. Failure is stamped over every aspect of Bowfingerís career. Heís fast approaching fifty and he sees the end of the Hollywood road moving toward him faster than speeding freeway traffic. A last-ditch inspiration inspires Bowfinger to round up his desperate crew of moviemakers for one last daring attempt to grab the brass-coated ring from the filmmaking merry-go-round.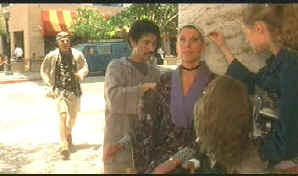 Kit's ready for you Carol. ©Universal
After the recent success with In and Out, Frank Oz returns to the directorís chair with Bowfinger. Oz knows comedy so well and has worked with star Martin brilliantly before in Dirty Rotten Scoundrels. The set-up for Bowfinger is quite good, making a movie without the knowledge of its star under the guidance of a conniving and desperate Hollywood peripheral. The chaotic nature of Bowfinger instills it with vigor but tarnishes some of the polish. Some of Martinís silliness in abandoning character logic for easy comedy hurts Bowfinger. Considering Bowfingerís ingenuity, there are things he does that donít make character sense and undermine the level of comedy.
Bowfinger is one of those films that is funny to watch and continually enjoyable, but you realize it fails to live up to its potential. Some of the satire is far too easy, leaning toward farce. It blunts the edge. Bowfinger derives its humor from variations on the same theme and while it is mostly funny, thereís a repetitive sense that prevents the film from taking off with vertical hilarity.
Martin is on cruise-control as Bobby Bowfinger. As the writer, he knows the character very well. The actor's comic presence works for him most of the time. There are always levels of Martin's silliness in the films he makes, and when, like in Three Amigos, it calls for him to trip over himself, the silliness works well, but in Bowfinger a little more edge might have made Bowfinger a sharper comic experience. Eddie Murphy lets Kit Ramsey display his warts and fangs with unfettered glee. But the twin Murphy characters, Kit and brother Jiff, are not equally funny creations. Kit, admittedly, is an easy satire and Murphy has an easy time poking fun at this character, but the sweet and innocent Jiff is another task altogether. Jiff is not a ready target with his sweet screen persona, some any humor stabs at him are rather acid. Maybe the filmmakers fail to go at Jiff full throttle and thatís the problem. Itís hard to put your finger on it, but Jiff ultimately falls flat.
Christine Baranski has a lot of fun making Carol, the aging stage actress, a ham-full delight. Heather Graham waives her arms a lot as Daisy, the newly arrived Ohio girl ready to do anything to move up the Bowfinger ladder. The rest of the supporting players capture the spirit of an Ed Wood company of players.
Watching the out-takes might be a good indication of how much fun these actors had making Bowfinger. The several clips are funny and provide insight into the improvisational skills of Martin and Murphy. Mostly, they are just plain fun and I wish they had gone on longer. A few deleted scenes have been added as well. With one short exception, these are variations on scenes already in the film and while some good material has been lost, you can easily see why the director made his choices. The spotlight on location feature is entertaining and contains comments from all of the principal members of the cast.
Oz is comfortable giving the actorsí credit for their improvisational skills in the audio commentary. Oz is a comfortable speaker and presents an even-minded evaluation of what we are seeing. You can here Ozís confidence in the editing process. He likes alternatives to make choices because heís not always sure what is funny. Oz provides detail about how reshoots help define the movie with better clarity. After three months, the team realized they needed more explanation in a scene, and, voila, back to the set. Meticulous detail recording makes it all possible. Will you enjoy the freeway scene more or less knowing that Murphy actually runs across that freeway, but the cars have been added digitally. Oz enjoys sharing that information. Thereís a lot to learn about the filmmaking process from the Oz commentary.
Universal delivers Bowfinger in an excellent special editon. Everything is in comfortable focus and background details add texture to the comedy. Interiors capture the varied lighting touches of cinematographer Ueli Steiger. Colors are bold and accurately reproduced. There's plenty of light output for every display device. Contrast is strong. The layer change pause freezes momentarily. Sound is handled ably in both Dolby Digital 5:1 and DTS. The sound mix is most effective in embellishing Eddie Murphy's dash across the freeway, but otherwise, it's not an especially aggressive.
The Feature Archive has articles ranging from A Western is a Western is a Western to Screen Voices, The Heistmasters, Akira Kurosawa, film preservationist Robert Harris and Shawshank Redemption director Frank Darabont.



Catch the Hollywood take on Blonde Bimbos by clicking on the image above.

Check out the Movie Poster Archive for short bios and images of Susan Hayward, Kirk Douglas, Katharine Hepburn and many more. This month's featured star is Clark Gable.

More than just talk, one of the friendly and helpful places on the web where home theater views are exchanged. You might find a laugh or two as well.
Imaging Science Foundation


The Imaging Science Foundation promotes proper standards in home theater viewing. ISF trained technicians offer monitor calibration services to consumers. The difference in a properly calibrated monitor can be astounding. Click on the image to find an ISF member near you.
HOT LINKS
DVD Verdict
They may be judgmental, but that's the point, isn't it. Lots of DVD reviews plus news and more
The Home Theater Forum
Looking for lively and helpful exchanges on home theater, DVD, movies. Visit this friendly site and get a hardy welcome.

Home Theater Reference Reviewing System





When you read a DVD review it's of utmost importance to know what equipment is being used to evaluate quality. Click on the projectors to find out more.