Blood, Guts, Bullets, & Octane/B,B
Universal/1999/87m/WS 1.85
A wicked black comedy driven at a furious pace by writer/director/editor/actor Joe Carnahan. The novice filmmaker delivers a movie about the two young owners of Bob and Sid's Auto Emporium, used car dealers on the brink of financial disaster. Their questionable sales techniques backfire more than their shoddy inventory. Former employees of super successful Danny Woo, whose Woo's Wild World of Resale is located just down the road a piece, the slick sales duo are struggling to make a go of it. Financial desperation and a good deed from an unlikely source suck them into a whirlwind of madness and mayhem.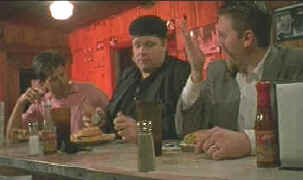 Sid and Bob meet the man in black. ŠUniversal
Some viewers may find Blood, Guts, Bullets & Octane emulates the style of Quentin Tarantino, but Carnahan has his own frenetic voice. His story telling unfolds with more linear force than Tarantino's work. Carnahan cuts with the same reckless abandon in which his characters approach their destiny. The rapid fire delivery of images, dialogue and plot detours is a joy to watch, if sometimes a meal served so fast that digestion is dubious. Carnahan liberally sprinkles the action with more title cards than a typical silent movie, and while they are often funny, there are far too many. It almost seems like the director is padding the film with extra minutes. The cinematography includes a mix of dreamy black and white images that strain for effect with bright color work on what appears to be a variety of film stocks. The score by Luis Resto, Dan Koltan and Mark Priolo is consistently funny.
Carnahan works well with his actors, both as co-star and director. The banter between partners Bob and Sid is often hilarious and seldom leaves the audience with a moment to sort out the sales wisdom. Don Leis does a good job playing the less exciting character Bob, but it is Carnahan that commands the screen with outrageous gusto. Dan Harlan is quite funny as mentor Danny Woo.
The DVD is every bit as slick as the car salesmen appear, but it delivers the real goods. The widescreen images are consistently sharp with outstanding depth. Color saturation is rich and NTSC artifacts are kept at bay. High light output with excellent contrast balance makes for a bright picture on any monitor. The Dolby Digital surround is an active mix and the score delivered with clean, upbeat rhythms.


Selections from the feature archive include articles on Akira Kurosawa, Frank Darabont, Blonde Bimbos, Hollywood Street Gangs, or Vietnam: The Hollywood Pariah, and many more....

Why do Al Pacino, Gene Hackman, Pat O'Brien and Goldie Hawn fall into a select group of actors? Find out more by clicking the Hollywood on the Sidelines symbol.


Direct from the corridors of the Home Theater Forum, Home Theater Talk is the newest place on the Net to discuss everything home theater. Friendly atmosphere and knowledgeable folks are the secret ingredients.
---
They may be judgmental, but that's the point, isn't it. Lots of DVD reviews plus news and more.


Click on the link to visit the judge's chambers.
---

---

A love of movies drives this small DVD production company, Synapse Films. Currently specializing in horror and cult films. Watch for new DVD releases of film festival independents as Synapse branches out.
---

The Movie Poster Archive include extensive poster images from the films of stars like Susan Hayward, Kirk Douglas, Katharine Hepburn and many more. This month's featured star is Robert Mitchum
---