Big Daddy/B-,A
Columbia/1999/124m/ANA 1.85
I like Adam Sandler. I donít especially like him when he acts more like Jerry Lewis than Adam Sandler. The ads for Big Daddy suggested Sandler would be in Lewis-like form, but to my relief, Adam was just being Adam and that meant an enjoyable experience. The material is thin and itís truly a one-joke movie, but there are enough funny moments to make it worthwhile. Big Daddy is predictable and does let you down in its saccharine serious moments. Thankfully, comedy is what Big Daddy is about and Sandler can make the average Joe a hilarious figure.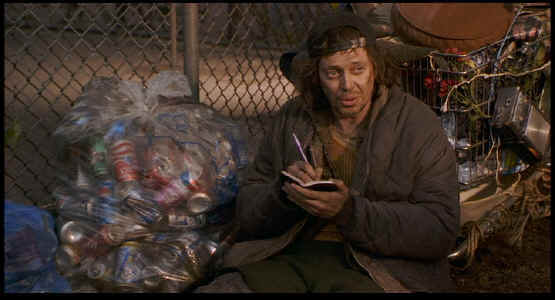 Buscemi's great can collection. ©Columbia
Sonny Koufax manages to live off the proceeds of a modest $200,000 auto accident claim by parlaying the bucks in the stock market. Sonny basks in his slovenly eccentricity and laziness. His unlikely circle of friends are all college mates who have achieved professional success to varying degrees. Sonnyís girl friend has come to the end of her tolerance and his life is about to change. Enter a five-year-old boy that is delivered to his apartment door for care by the supposed real father, Sonnyís roomie Kevin. Conveniently, Kevin is at the airport about to embark on a China trip, and Sonny takes the kid in for the night before contacting social services about him. The set-up is something like Three Men and a Baby, but interaction with a charming five-year-old provides more opportunities for Sandlerís brand of childish humor.
If youíve seen the movie art, you know Sonny teaches the kid to urinate against a wall, but it plays out much differently in the film. There are other gross-out spots of humor, but Big Daddy makes the most of Adam Sandlerís good nature to entertain. The sets are enjoyably chaotic, the girls in Sonnyís life very attractive, and some of the jokes that border on tastelessness deliver some late film pay-offs well worth the wait. There's a typical Hollywood caveat about playing opposite dogs and kids on screen, but the kid in Sandler is insurance in the face of Hollywood wisdom.
Providing nice Sandler support are the Sprouse twins who play the kid Julian. Steve Buscemi does a great homeless guy and Joey Lauren Adams provides the big smiles.
Big Daddy is breathtaking in its ease of transfer. No artifacts whatsoever that I could detect and virtually no edge enhancement with a very sharp image. The colors are alive and well, detail depth startling. There are no big action sequences, but his is one DVD that makes you forget you are watching NTSC. The Dolby Digital 5:1 sound is clear and robust with punchy movie tracks.