Big Combo/B-,D-
Image/1955/88m/FS 1.33/BW
Several of cinematographer John Alton's films are prime examples of film noir. Raw Deal and T-Men directed by Anthony Mann depict the dark world of noir in elegant light. The stylish, key-lit images come alive sculpted in light and shadow. The Big Combo, shot by Alton, is a minor noir effort that could have looked great on DVD. Unfortunately, the film elements for this DVD are not in good shape. It appears that lots of digital paintbox cleaning techniques have been utilized on The Big Combo. The result is many images that are soft and ill defined. Even Alton's beautiful lighting suffers immeasurably from the softening, losing much of its dramatic power. What a shame! The beauty of these images painted in shades of light are so integral the power of these small, "B" noir films. Cornel Wilde, the star of The Big Combo, has a flat, monotone style of acting, but still, I would have liked to be able to look into his eyes of those close-ups and get an inkling of what was going on behind them. The diminished image prevented it. Overall, the image lacks depth. The cleaning seems to flatten everything out. There are still scratches and dirt and some bad splices evident, but the pervasive softening dulls the impact of The Big Combo. There are other problems. Picture jitter occurs far too often, perhaps from uneven shrinking of the elements. Contrast range is okay, but again, it appears slightly blown out from the digital work for DVD. The mono sound track is pretty ugly as well. There is a persistent grating that accompanies the dialogue and music. At least the dialogue is clear and David Raksin's jazzy score survives nicely.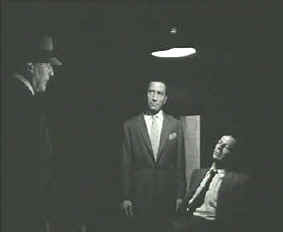 The drink's are on Mr. Brown. ŠImage
Despite the limitations of the DVD, I still managed to enjoy The Big Combo. It's not great noir and the script dialogue veers from sharp to ripe. Leonard Diamond is a straight shooting cop on a mission. He wants to nail racket boss Mr. Brown to the wall and despite Brown's political connections that make him almost untouchable, Diamond persists. There's a girl under Brown's power that Diamond has his eye on and there's a burlesque queen who comforts the lieutenant on those tough nights. Two toughs do Mr. Brown's dirty work with glee.
The Big Combo doesn't offer up a lot of surprises. You've seen all the characters before. It comes down to execution. Joseph H. Lewis directs with quick strokes and little waste. Alton's photography doesn't hurt and neither does the Raksin score. Lewis might have gotten some better mileage out of his stars. Cornel Wilde almost sleep walks through the role of Diamond. What's driving this guy to nail Mr. Brown? Beats me. Jean Wallace, AKA Mrs. Cornel Wilde, as the femme fatale, is simply awful. At least Richard Conte gives Mr. Brown all the traits you love to hate. The look and fell of the film is almost as important as the script.
There are a good crew of supporting actors crouching in the shadows of The Big Combo. Lee Van Cleef and Earl Holliman play the toughs Fante and Mingo like a pair of gun crossed lovers. Robert Middleton seems ill at ease as Captain Peterson. and Brian Donlevy is positively shifty eyed as Brown's number two.
The Feature Archive has articles ranging from John Ford to Blonde Bimbos, Akira Kurosawa and Frank Darabont.



Click on the image above to access The Heistmasters, a view of the best directors of the heist.
Check out the Movie Poster Archive for short bios and images of Susan Hayward, Kirk Douglas, Katharine Hepburn and many more. This month's featured star is Clark Gable.
Imaging Science Foundation


The Imaging Science Foundation promotes proper standards in home theater viewing. ISF trained technicians offer monitor calibration services to consumers. The difference in a properly calibrated monitor can be astounding. Click on the image to find an ISF member near you.
HOT LINKS
DVD Verdict
They may be judgmental, but that's the point, isn't it. Lots of DVD reviews plus news and more
Home Theater Reference Reviewing System



When you read a DVD review it's of utmost importance to know what equipment is being used to evaluate quality. Click on the projector to find out more.
The Home Theater Forum
Looking for lively and helpful exchanges on home theater, DVD, movies. Visit this friendly site and get a hardy welcome.