Best Man, The/B,B+
Universal/1999/121m/ANA 1.85
An enormously good-natured film that looks at middle class African American young people as they come together for a friend's wedding. What I liked most about this film is that it's not stamped with ethnic stereotypes at every turn. These bright, funny, entertaining characters could be white, green or pink; they just happen to be black.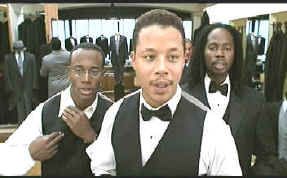 Looking good! ŠUniversal
There's a stag party with hilarious results. The script allows the players to echo it's amiable tone. This makes easy pickings for the ensemble of young actors. Taye Diggs provides writer Harper with a winning smile and some sheepishly mixed emotions on the result of his book. Harold Perrineau is very sweet as Mirch and Morris Chestnut looks and acts the part of a football player with physical style. Terrence Howard adds the right measure of hip provocateur. The ladies are an equally enchanting and diverse mix of actresses. Nia Long plays the gal with the most drive, Jordan, without giving up her femininity. Melissa DeSousa is hilarious as Shelby, and Sanaa Lathan adds a stunning presence as Robin, Harper's current lady.
Writer/director Malcolm D. Lee displays a sharp way with words and excellent visual style. Lee's film never drags nor loses its charm. Lee also makes a memorable appearance as the stag party MC.
It's interesting that the structure here is so similar to The Wood, a film revolving around a wedding that also stars Taye Diggs, but The Best Man is much better movie making.
Aside from slight edge enhancement, this is a fine looking DVD. Bright colors and sharp detail. Blacks are rich and uncompressed with layered details showing well. The DVD soundtrack is encoded with DTS and Dolby Digital, your choice. It's active and crisp, with good bass response and clear dialogue.


Selections from the feature archive include articles on Akira Kurosawa, Frank Darabont, Blonde Bimbos, Hollywood Street Gangs, or Vietnam: The Hollywood Pariah, and many more....
Sturges Emerges


Preston Sturges was Hollywood's resident comic genius for more than a decade. His movies are timeless. Click on his image to read all about it.
---

They may be judgmental, but that's the point, isn't it. Lots of DVD reviews plus news and more.


Click on the link to visit the judge's chambers.
---

Gary Morris's insightful publication Bright Lights Film Journal turns the celluloid in films from a unique perspective. Click on the image above for more pure movie views.
---


The Cinema Laser
A home grown magazine for laserphiles that has been publishing for a number of years and has embraced DVD in a big way. Lots of helpful information.
---

The Movie Poster Archive include extensive poster images from the films of stars like Susan Hayward, Kirk Douglas, Katharine Hepburn and many more. Our featured star is Spencer Tracy.
---