Half Sheet Posters
Click on the thumbnail posters for larger images
One of the nice aspects of half sheets is that they often came in "A" and "B" styles, offering a greater variety of artwork for any given film. The poster focus could emphasize one star on one style and another star on the second style. Each style could point up different aspects of a film style "A" portraying action and style "B" advertising romance. Take the set of Sea of Grass posters. One clearly focuses on the love interest between the two star Tracy and Hepburn while the other gives added weight to the supporting players. The Captains Courageous half sheet is a reissue. As you can tell, studios often tried to economize on publicity materials when a film went into reissue. Still, the poster conveys the power of the story with its bold red title letters imposed over the sea blue background. Tracy won his first Oscar for Captains Courageous and he followed up the next year with yet another Best Actor Award for his role as Father Flannagan in Boys Town.
Half Sheets measure 28 x 22 and are almost always produced on a heavier paper stock than one sheets. Half Sheets that have been folded frequently deteriorate and begin coming apart at the folds. The action of folding and unfolding the paper exacerbates the condition.


Selections from the Feature Archive include articles on Akira Kurosawa, Blonde Bimbos, Frank Darabont, Steven Culp, John Herzfeld or Vietnam: The Hollywood Pariah, and many more....
The Bitch Brigade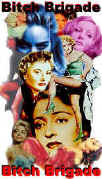 A line-up of lean-lipped actresses who marched through Hollywood in a high heeled goose step armed with razor sharp dialogue. Click on the image to read all about them.
---

Click on the DVD MIA symbol for profiles of DVDs missing in action.
Add films to the DVD MIA Master List by filling out a simple form. Click Here
---


Not One Less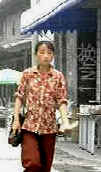 In a remote Chinese village a 13 year old Chinese girl takes determination to the limits. From master filmmaker Zhang Yimou.
---