Wizard of Oz/A,B+
Warner/1939/102/FS 1.33
The Wizard of Oz is a core title in any video collection. If you already have it on laser disc, there may be no reason to add a DVD. There are any number of laser versions of The Wizard of Oz and at least one, The Ultimate Oz laser edition, looks better than its DVD counterpart. The laser disc is slightly sharper in image and the colors are controlled to richer effect.
Personally, I never tire of the charms of Judy Garland in this wonderful fantasy. Garland captures something so fresh and extraordinary in her portrayal of Dorothy Gale. Watching Garland perform is excuse enough for watching the film on a regular basis. But revisiting The Wizard of Oz is also a reminder of lost innocence as well as our glorious movie past.
The brilliant colors of The Wizard of Oz are a perfect match for would-be optical perfection. This DVD does capture all the magic of the fabulous production. The mono sound is very accurate with no distortion. Even the Munchkin dialogue is discernible. And itís great to have both the laser sharp quality of images and the absence of ill-timed side breaks that DVD provides for most films on The Wizard of Oz.



News, information, features about current films in theaters and in the pipeline. Easy to use interface.
---


The official site for information about the great comic director. A treat for connoisseurs of classic Hollywood madcap.
---

Puttin on the Ritz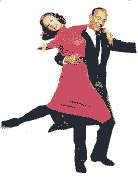 Fred Astaire and Cyd Charisse bring Silk Stockings to life, a remake of Ninotchka, one of many films successfully turned into musicals by the Hollywood dream factory. Read all about remakes into musicals by clicking on the divine dancers.
---