Utu/ B+, D
Kino/1988/118/WS 1.77
Frontier New Zealand looks a little like John Ford Indian country is this Down Under army versus the natives flick. Utu is a very good film.
A Maori army scout, Te Wheke, encounters the stark evidence of a massacred Maori village. The devastating scene is more than he can stand. His rebellion sets in motion an action to bring an end to the violence against the British establishment. The crown brings in Lieutenant Scott, a native New Zealander, to attempt to use quasi-guerilla tactics to quell the uprising. The messages in the compelling film are clear cut, almost pedantic, yet I never felt hammered by preaching. Director Geoff Murphy directs with taut control maintaining tension yet keeping the film level-headed. He even delivers a fair dose of humor..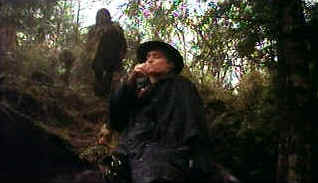 Te Wheke spots Scott. ©Kino
The relationships are especially interesting as they reflect on the film's philosophy. Scott represents a native New Zealander's view while the martinet Colonel Elliot is a cartoon of British imperialism. Wiremu, the savvy Maori militiaman who remains loyal to the crown is probably the most interesting character of all since he embodies aspects of all philosophies.
The sub-plot of settler Williamson's determination to wreak vengeance on Te Wheke after the Maori band attacks his homestead makes for fascinating film. Watching Williamson put the pieces together to hunt the Maori warrior provides some stirring moments. You gotta get a load of that two fisted gun he fashions. A truly memorable screen weapon!
The fighting is quite direct and unfettered by love of the camera. There are some interesting performances. Zac Wallace, making his screen debut, is haunting as Te Wheke, the white man's soldier turned back to raging savagery. Kelly Johnson, who has a pivotal role as Lieutenant Scott, is far too white bread for my taste. Still, the character lives under Murphy's guidance. The portrayal of the British Colonel is rather cardboard and comical as well. Bruno Lawrence is wonderfully mad as rancher Williamson, foaming at the mouth for Te Wheke's blood. Tania Bristowe as Kura, the rebellious and independent native girl, is freshly playful without artifice.
Sad to say that this powerful film is turned out in a miserable transfer. It actually looks like it might have been sourced from ¾ inch tape. I know it's a low budget job coming from a young New Zealand director, but I had the feeling that it should look absolutely stunning. Contrast often falls short, color saturation is barely adequate, and blacks are less than hardy. Soft focus prevents entering the deeper reaches of characters. Haunting music lacks full range. Hey, if this is all there's gonna be on DVD, you might as well do a rental, if you can find it.


Selections from the Feature Archive include articles on Akira Kurosawa, Frank Darabont, Blonde Bimbos, Hollywood Street Gangs, or Vietnam: The Hollywood Pariah, and many more....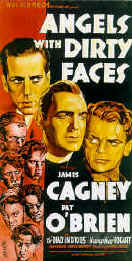 Hail, Hail, the Gangs in Hollywood
From Angels with Dirty Faces to West Side Story to Menace II Society, Hollywood has depicted youth gangs as reflections of the times.
---



Glenn Erickson's insightful DVD reviews have been a Internet fixture for several years. Check out some of his sophisticated feature articles. Currently hosted by DVD Talk.
---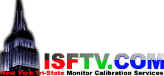 ISF Monitor Calibrations in the Tristate New York area. Lots of hardware info and frequent hardware peaks from video expert Kevin Miller. They may be judgmental, but that's the point, isn't it. Lots of DVD reviews plus news and more.
---

---
MRQE
Find reams of movie and DVD reviews at the Movie Review Query Engine, a index of reviews appearing on the Internet.
---


Mystery writer Fred Hunter digs into classic films on DVD. Check out his insightful reviews at The Classics on DVD.
---

Michael Douglas in Falling Down, looks quizzically at Robert Duval: 'You mean, I'm the bad guy'