Thief(SE)B+,B+AAA
MGM-UA/1981/124m/WS 1.85:1AAA
Michael Mann's meticulous portrait of a professional burglar in crisis is thoroughly riveting in its dedication to character. Like all Mann films, Thief is painstakingly authentic in detail. Burglaries are depicted in clear, simple film strokes. The equipment used for the break-ins and safecracking look made for the job. And Mann's camera captures the intensity with internal clarity.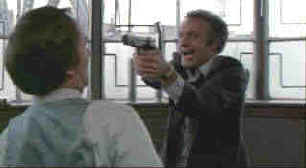 Frank is a bomb ready to explode.©MGM-UA
Ex-con Frank, schooled in the art of safecracking in prison, has been building a successful bankroll through a series of burglaries around Chicago. Frank's front is a used car lot where bucks are channeled into Buicks and a bar that doubles as a convenient hangout and investment. Frank's life develops more complications than he's bargained for when he meets Jessie behind the cash register in a diner. Like everything Frank does, he romancing is decisive. At the same time, a successful diamond heist sucks him into involvement with a ring of professional crooks led by Leo. Frank is a bomb ready to go off and Leo may just be the fuse.
James Caan brings his own brand of intensity to the burglar Frank. Caan's speech patterns are clipped and clear. There are no dual meanings. When Frank makes a threat, he means it. When Frank says he has nothing to lose, he cleans house. Caan practically spits his words out in antagonistic circumstances, yet is tender in an unyielding way in scenes with those he cares about. Tuesday Weld plays Jessie, who becomes Frank's wife. Weld is astonishingly vulnerable in the role and in only a few scenes creates a vivid screen portrait, an alluring woman, loyal and caring. The supporting players, led by Robert Prosky in his screen debut, flesh out Thief with outstanding performances.
Looking at Thief in the context of Michael Mann's more recent Heat is very interesting. Thief themes crop up and are expanded upon in the more recent film. It's like Mann is looking to perfect the portraits he has painted in the past. Frank, like Neil in Heat is a loner ready to give up everything for survival.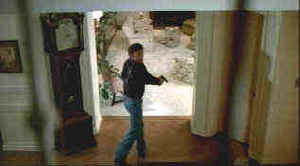 Frank stalks Leo. ©MGM-UA
There are two hang-ups on my Sony player on Thief, on chapter 3 at 4.25 and chapter 25 at 1.43. Each time the DVD freezes slightly and then skips momentarily. On a Toshiba 3006, the disc had smooth sailing. Aside from that, Thief is a very good DVD. The night sequences are dazzling. Check out Frank's initial meeting with Leo. It's reference night material: deep, endless blacks, small discernible details, city lights focused. The explosions are amazingly controlled efforts of transfer and compression and the sparks flying from a thermal lance are brilliant. There are some NTSC artifacts such as aliasing. I noted a slight horizontal jitter in a few scenes, probably NTSC related. While the Thief DVD is from the same source as the laser, the images on the small disc are much better, benefiting from the enhanced detail range of DVD. The Tangerine Dream score sounds terrific on this new Dolby Digital 5:1 mix. Ambient detail is outstanding and directional.
The special edition DVD features an audio commentary track with director Mann and star James Caan. The observations are not especially technical and there are pointed silences while the principals obviously digest the film they are watching. It's a very relaxed exchange between the director and his former star and it's filled with reminiscences of the production. Caan supplies lots of humor.


The Feature Archive has articles ranging from Akira Kurosawa to Blonde Bimbos and John Ford.
Redeeming the Writer:


A Conversation with Frank Darabont
---



News, information, features about current films in theaters and in the pipeline. Easy to use interface.
---


Home of The American Film Institute.
---


Click on the link to visit the judge's chambers.
---


The National Film Preservation Foundation (NFPF) is the nonprofit organization created by the U.S. Congress to save America's film heritage.
---

Direct from the corridors of the Home Theater Forum, Home Theater Talk is the newest place on the Net to discuss everything home theater. Friendly atmosphere and knowledgeable folks are the secret ingredients.
---

The Movie Poster Archive includes extensive poster images from the films of stars like Susan Hayward, Kirk Douglas, Katharine Hepburn and many more. Our featured star is Tyrone Power.