Billy Magic is a disc jockey with a shady past who lands a gig as WHK Cleveland's voice of rock and roll. Magic's radio patter, whether on screen or from the radio in other scenes, invests Telling Lies in America with a purely distilled American energy. While the movie is a coming of age drama about a high school senior Karchy Jonas, a Hungarian immigrant, Billy is the driving force. He stands in as the central metaphor for America, with its great fresh appeal, it's verve for life. On the flip side, Billy's questionable motives for friendship show another side of America. How they impact on Karchy's coming acceptance of his manhood is where the film leads.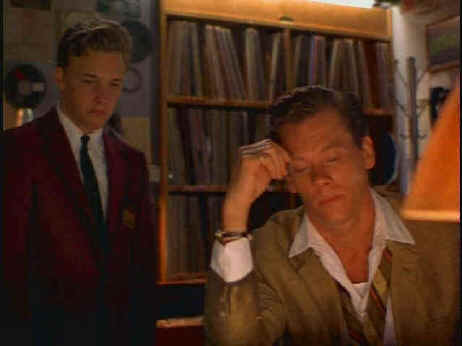 Magic's mood musicİVersaDisc
Kevin Bacon is fabulous as Billy Magic. Bacon maintains an astounding energy level, oozes charm with the same dexterity that he pops 45s on the platter, and adds a mythic quality to Telling Lies in America. Brad Renfro is at the awkward stage that young actors often go throw. Renfro gives Karchy a flat, blunted personality, a mixture of innocence and hunger. Playing against Bacon's flamboyant Billy almost everyone pales. Calista Flockhart is the unlikely object of Karchy's affection, while Maximillian Schell imbues Karchy's father with great dignity.
Part of the first offering from VersaDisc, "the interactive magazine on DVD," Telling lies in America is a substandard transfer. The image is far too soft with a number of scenes simply out of focus. Skin tones are oversaturated and there is some slight bleeding of color. Contrast is all right, though a slightly more dynamic picture would have suited this tale well. The film is present pan & scan 1.33. Clearly, a number of compositions suffer from the chopping.
Other features of this initial VersaDisc offering includes a number of music videos, the games Pax Imperia and Redjack and movie trailers for Fargo, Bean and The Game. VersaDisc is offered free to subscribers. Free or not, the quality of the movies they present must be up to DVD standards. Hopefully the second issue will come up with a clearer picture.