Tall Guy/ B+, B
Miramax/1989/85/ANA 1.85
It is so refreshing to find an original and engaging comedy that makes its audience comfortable in joining in its jubilation. The Tall Guy not only achieves this distinction, it manages at the same time to paint an enjoyable and credible romance between stars Jeff Goldblum and Emma Thompson, all the same never sacrificing love to its main mirth making mission . It even manages to utilize voice over narration as a funny and evanescent device.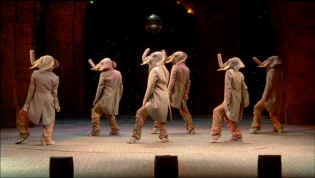 Six swinging trunks. ©Miramax
Jeff Goldblum has never had a part that matched his particular talents and physicality so well. Goldblum is a laugh riot as London-based American Dexter King, a struggling actor whose chief claim to thespian immortality is a five year run as the abused butt of "Rubber Face Review" star Ron Anderson (A rather dark and nasty Rowan Atkinson.). The bits from the review are in the grand "Pythonesque" British music hall tradition of absolute madness. Goldblum's screen veneer of insecurity and awkwardness are very convincing and he proves coolly nonchalant through some of the most outrageous situations with landlady and neighbors. Emma Thompson, before setting filmdom on its ear with a number of award caliber performances, is very much a vision of an earthy Julie Andrews as Dexter's romantic ideal, Kate Lemmon. Thompson is clearly in support in this film, but she makes the most of a role that could easily have been eclipsed by the sunburst of broad humor that drives The Tall Guy. She and Goldblum make a realistic romantic couple and Thompson is quite the fine comedienne.
The fine screenplay is written by frequent Rowan Atkinson collaborator Richard Curtis, who in recent years has delivered some extremely successful British comedies such as Four Weddings and a Funeral, Bean, and Bridget Jones' Diary. The most inspired development of the screenplay is the spoof of "highbrow" musicals, "Elephant." The ridiculous production is King's big opportunity after a break with mean spirited Anderson. The small scale production numbers are filled with belly laughs and are reminiscent of another wild cinematic spoof, "Springtime for Hitler," in The Producers.
Comic actor/director Mel Smith made an auspicious debut behind the camera with The Tall Guy. Nothing he's done since has come close to the controlled madness. His direction is crisp and his use of irreverent montage a joy. The silly production montage "Could This Be Love," takes the viewer totally by surprise and is a coup for Smith's daring construction.
The Tall Guy makes fun of actors, directors, doctors, and nymphos. Best seen in the company of a receptive audience, the chain of infectious laughter will surely make you miss some of the comic inventiveness, but that's okay, because the film stands up well to subsequent visits.
Good color depth and overall detail are prevalent in The Tall Guy on DVD. Check out the color and detail on Dexter's colorful pullover. Shadow detail reveals subtle shadings quite nicely. This is a cinematic looking transfer with a smooth look, sharp without being edgy. Excellent light output makes for effortless viewing. A few scenes are slightly washed out or overexposed.


Selections from the feature archive include articles on Akira Kurosawa, Frank Darabont, Blonde Bimbos, Hollywood Street Gangs, or Vietnam: The Hollywood Pariah, and many more....
Gotta Dance


Fred and Ginger tapped their way into the hearts of movie fans everywhere. Stu Kobak takes a look at some of those dance movies that gifted audiences toe-tapping pleasure. Click on the image to get in on the beat.
---

The Movie Poster Archive includes extensive poster images from the films of stars like Susan Hayward, Kirk Douglas, Katharine Hepburn and many more. Our featured star is Tyrone Power.
---


General, The /A,B+



Irish gang leader Martin Cahill through the lens of John Boorman makes fascinating viewing. Watch it in black and white, Boorman's choice.
---



Mystery writer Fred Hunter digs into classic films on DVD. Check out his insightful reviews at The Classics on DVD.
---

The Cinematheque is a cultural, arts organization that programs year-round specialty film series at the newly renovated, landmark 1922 Egyptian Theatre on Hollywood Boulevard!
---

Have you visited Home Theater Talk lately? One of the friendliest places on the Net for Home Theater and DVD discussion, you can get help for installation problems or simply share your opinions with other Vidiots.
---