Take Me Out to the Ball Game/B,A-
Warner/1949/93/FS 1.33
Turn on the turn of the century: ball players uniforms are traditional flannels ladies bathing suits shelter more of the womanly posterior, and baseball is the national sport. New Wolves baseball team owner K.C. Higgins arrives for spring training. The fun loving players are in for a big surprise. K.C. has more curves than the collective pitching staff. K.C. is a lady. This baseball team has the best darn double play combo in the league, O'Brien to Ryan to Goldberg, but the high life and the floozy skirts have put a crimp into the Wolves diamond magic. It's up to K.C. to tame the boys and get the Wolves on track.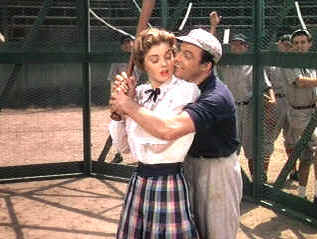 Kelly assumes the position with Williams. ©Warner
There isn't much to the story. It's just fun and high jinx in a colorful setting. Frank Sinatra looks like he could be blown away by a good wind as second baseman Dennis Ryan. Gene Kelly is acrobatic and effervescent as shortstop, team leader and lover Eddie O'Brien and Jules Munchin almost looks like a first baseman as Nat Goldberg. It's a good idea for an MGM musical. The cast is stellar. There's obviously good chemistry between the guys. Their next effort at musical magic the following year resulted in the jubilant On the Town. Esther Williams is athletic and convincing with the bat.
Breezy musical entertainment, but it's no Singin' in the Rain. Busby Berkeley directs from a story by Gene Kelly and Stanley Donen. The songs and music could have made Take Me Out to the Ball Game a World Series contender, but they mostly fail to excite the imagination. The highlight is the O'Brien to Ryan to Goldberg number.
Take Me Out to the Ball Game is a happy DVD surprise. The condition of the elements is excellent. Color registration is pretty much dead on; no hint of the problems encountered with Anchor's Aweigh. Technicolor© is delivered with vibrant saturation. Transfer is appropriately bright. Mono sound is clean and free of hiss. Resolution is excellent with no unsightly enhancement or compression artifacts. Two deleted musical numbers added as a bonus include Kelly crooning Baby Doll to Williams and Sinatra serenading Betty Garrett with Boys and Girls Like You and Me. Theatrical trailers for Anchors Aweigh, On the Town and Take Me Out To The Ball Game complete the package.

Take a look at the merry images of America's gift to the movies: Hollywood Musical Posters are featured from The Movie Poster Archive.
---



The Cinema Laser
A home grown magazine for laserphiles that has been publishing for a number of years and has embraced DVD in a big way. Lots of helpful information.
---


Doug Pratt's been doing almost longer than anyone in the business, reviewing laser discs, that is, and now DVDs too. The venerable Laserdisc Newsletter has been publishing since 1984. Pratt probably has a large enough stock of laser discs in his house to build a DVD-proof bomb shelter. Check out his on-line reviews at DVDlaser.com.
Imaging Science Foundation


The Imaging Science Foundation promotes proper standards in home theater viewing. ISF trained technicians offer monitor calibration services to consumers. The difference in a properly calibrated monitor can be astounding. Click on the image to find an ISF member near you.
---

A great place for movie lovers and techies to visit for exchange of ideas. New speedy interface is an inspiration for more dialogue. Home of Robert( Obi) George's DVD reviews.

---


A vast reservoir of DVD information, reviews, the kitchen sink. Check out their huge DVD database including reviews from many sites.
---


DVD King does the retail thing these days selling DVDs.
---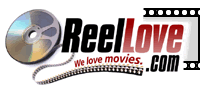 DVD etailer.
---


DVD News, Reviews, Previews, Easter Eggs and more.