Shadow of the Vampire (SE)/B+,A-
Universal/2000/93/ANA 2.35
Drawing blood from vintage horror films and cinema history, Shadow of the Vampire mixes its own version of a Bloody Orlock cocktail with relish and delivers it in elegant fashion. Director E. Elias Merhige transfuses Steven Katz's script about German silent film director F. W. Murnau's making of Nosferatu, the Dracula bastardization, into an eerie film about filmmaking and the lengths to which an artist might go to create his art. How far have these filmmaker's gone? To be sure, they have stretched the truth into a more appealing and mystical fabric than the truth itself. But for lovers of horror and cinema alike, Shadow of the Vampire is an succulent treat.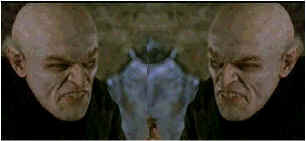 A grin or a grimace? ŠUniversal
John Malkovich, admittedly not my favorite thespian, plays Murnau with polished flare and intensity. His rants about the nature of art, his own importance and his ice-cold lack of concern for anything but the results of what he captures on celluloid are almost vampire-like. Murnau must feed his insatiable hunger for film perfection. Orlock, his vampire, licks his lips at the prospect of a blood treat. Willem Dafoe is frighteningly effective as Orlock actor Max Schreck. Cinematically, this one's quite brilliant, capturing the thrill of dark black and white images and sharing them with a dark world of color. Every look through the Murnau camera moves you back and forth into the world of horror. Director Merhige knows the material inside-out and lingers on the right moments. The pacing is suspenseful.
The dark DVD closes on perfection. Perhaps the blood could been displayed with a drop more clarity, but otherwise this DVD is spookily good. Shadow detail is outstanding. Contrast range recreates the ambiance of Murnau's world perfectly. Yes, the blood is rich, red, thick and syrupy. The sound mix is outstanding. Delivered both in Dolby and DTS, ambient detail creates a perfect horror atmosphere. Take a drink of this one!
Fans of the film can lick their chops at the special edition material presented. The short video interviews with Merhige, star Willem Dafoe and executive producer Nicolas Cage aren't exactly earth shattering. The heart of this special edition is Merhige's audio commentary. He delivers an abundance of historical information about film and the history of Murnau's film. He is extraordinarily well-spoken. He earns the title historian/filmmaker with this effort.


The Feature Archive has articles ranging from Akira Kurosawa to Blonde Bimbos.


Movie Rage: Death in the Aisles
Everyone knows what it feels like to get angry at the movies these days. Here's a humorous but not so delightful view of big screen misery
.


Ghost Dog: Way of the Samurai



Ancient Japanese samurai tradition compared to new world Italian mobsters filtered through the imagination of Jim Jarmusch. Forest Whitaker is outstanding.



Looking for information about widescreen movies and hardware. The Widescreen Movie Center is the place to go.


The National Film Preservation Foundation (NFPF) is the nonprofit organization created by the U.S. Congress to save America's film heritage.
---


Original articles, DVD reviews, links, forum discussion and more.
---