Shadow,The/C,B+
Universal/1994/108m/FS 1.33
The Shadow is but a shallow excuse for lots of action and special effects. Alec Baldwin is okay as the Lamont Cranston, the dark hero who has to battle his own inner devils and the evil Khan, the last descendent of Genghis Khan. John Lone is problematic is the villain's garb, prancing more like a dancer than a figure of malice and menace. A weak script by David Koepp gives stylish director Russell Mulcahy very little to work with.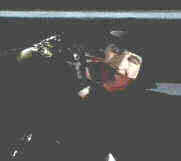 The Shadow knows. ŠUniversal
This is among the first of Universal's DVD releases and while the picture and sound are splendid, the fact that The Shadow is presented 4 x 3 is a major disappointment. Is the omission of widescreen a factor of cost or philosophy or just a blundering first step. Let's hope Universal, long known for its great laser transfers, delivers the goods on future DVDs.


The Feature Archive has articles ranging from Akira Kurosawa to Blonde Bimbos and John Ford.
Redeeming the Writer:


A Conversation with Frank Darabont
---



News, information, features about current films in theaters and in the pipeline. Easy to use interface.
---


Home of The American Film Institute.
---


Click on the link to visit the judge's chambers.
---


The National Film Preservation Foundation (NFPF) is the nonprofit organization created by the U.S. Congress to save America's film heritage.
---

Direct from the corridors of the Home Theater Forum, Home Theater Talk is the newest place on the Net to discuss everything home theater. Friendly atmosphere and knowledgeable folks are the secret ingredients.
---

The Movie Poster Archive includes extensive poster images from the films of stars like Susan Hayward, Kirk Douglas, Katharine Hepburn and many more. Our featured star is Tyrone Power.