Requiem for a Heavyweight/ B+, B+
Columbia/1962/86/ANA 1.85/PS 1.33
Originally a 1956 teleplay by Rod Serling (Twilight Zone creator) written for the live television show Playhouse 90, Requiem for a Heavyweight was turned into a movie with Anthony Quinn in the role originated by Jack Palance. Anthony Quinn's Mountain Rivera is wonderful. He's a giant of a man, beastly in stature and movement, but tender, a man of great loyalty, and even in his slurred voice and puffed and pounded face, the man has dignity. In some ways you can recall the Brando " I could a been a contenda" speech when Mountain expresses his disappointment in his manager Maish. "I never took a dive in a 101 fights." It emotionally true to the character and Quinn is rock solid perfection itself.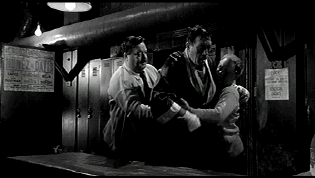 Mountain's triangle. ©Columbia
Director Ralph Nelson opens the film with a fabulous bar room pan across a sea of real-life veteran boxers to lead into the punched out world of Mountain Rivera. It's a stark dose of reality that announces skillful insight into the material. Almost every boxing drama that I recall feature elements of mob corruption and fixed fights. It's close to a Hollywood tradition. It's a natural part of Requiem for a Heavyweight. The ring scenes are short and few; although this is a film about boxing, it doesn't take it's pleasure from the ring but from the characters. I think it's a wise choice. What we do see is simple, brutal, and concise delivering a knock-out treatment from the Rod Serling script.
Requiem for a Heavyweight is trimmed with fine scenes. What an unusual and tender relationship is built on the improbable combination of the gruff, awkward Mountain, and Grace Miller's unemployment agency worker who tries to help Mountain find a new path. There's a moment when Mountain recalls the history of his relationship with Maish to Grace Miller, noting the time Maish cried for him after a fight. Mountain clings to his belief in Maish and the memory helps to cloud his already fragile vision. A fortuitous casting choice has Cassius Clay (Muhammad Ali) playing himself as Mountain's last ring opponent. Posters announcing the Clay/Rivera fight also remind us of Clay later in the film.
Nelson's fine sense for the material brings the right ominous camera angles to make periphery characters look tougher; in fact, they look so oily they almost slide around the frame of the image. Laurence Rosenthal delivers a solid score to compliment the material of the material. The limited, closing space of the trapped rat sequence is effectively captured in the music.
Along with Quinn's touching performance as Mountain, Jackie Gleason and Mickey Rooney form a perfect triangle to anchor the power and reality of Requiem for a Heavyweight. Maish Rennick is one of Jackie Gleason's finest screen moments, comparable to his outstanding turn as Minnesota Fats in The Hustler. Gleason moves through an interesting range of emotions, especially in his interaction with Mountain who he has managed for seventeen years. Maish is one of those shady characters that have good traits too, but he's caught between the rock and the hard place in Serling's screenplay. Mickey Rooney is excellent as Mountain's cut man Army. Mickey shows enormous love in the film. He's protective of Mountain, but he doesn't know how to act on his impulses. Rooney makes us care about the slightly simple Army. And Julie Harris is a fine choice for Grace.
The gritty look of the world of Requiem for a Heavyweight is transferred elegantly to DVD. Excellent source elements make a fine DVD production possible. The black and white image exhibits fine gray scale range and subtlety. Shadow detail provides the proper shades for a look into the world of professional prize fighting. Blacks are rock solid. The image is consistently sharp. Close-ups reveal the soul behind the eyes. Every facial pore is delineated perfectly. There are specs of dirt that crop up here and there, but the instances are isolated and the overall feel is very theatrical. The mono sound is very clean. The dialogue is easy to understand. Not a word of the fine script is lost. Even Mountain's slurred speech is delivered with clarity.


Selections from the Feature Archive include articles on Akira Kurosawa, Frank Darabont, Blonde Bimbos, Hollywood Street Gangs, or Vietnam: The Hollywood Pariah, and many more....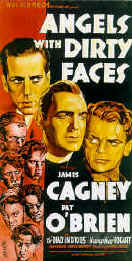 Hail, Hail, the Gangs in Hollywood
From Angels with Dirty Faces to West Side Story to Menace II Society, Hollywood has depicted youth gangs as reflections of the times.
---


Selections from the Feature Archive include articles on Akira Kurosawa, Frank Darabont, Blonde Bimbos, Hollywood Street Gangs, or Vietnam: The Hollywood Pariah, and many more....
Anthony Quinn


A larger than life screen presence brought joy to audiences for six decades. Anthony Quinn had a rare zest for life that was invested in many of his roles. Long live his memory. Click on the image for a look at his career.
---



Mystery writer Fred Hunter digs into classic films on DVD. Check out his insightful reviews at The Classics on DVD.
---

The Cinematheque is a cultural, arts organization that programs year-round specialty film series at the newly renovated, landmark 1922 Egyptian Theatre on Hollywood Boulevard!
---
Brad Lang continues to add more interesting material to the extensive collection at Classic Movies. Everything from actors and actress to your favorite directors is linked at the site.
---


Doug Pratt's been doing almost longer than anyone in the business, reviewing laser discs, that is, and now DVDs too. The venerable Laserdisc Newsletter has been publishing since 1984. Pratt probably has a large enough stock of laser discs in his house to build a DVD-proof bomb shelter. Check out his on-line reviews at DVDlaser.com.
---


General, The /A,B+



Irish gang leader Martin Cahill through the lens of John Boorman makes fascinating viewing. Watch it in black and white, Boorman's choice
---