Quicksand/B-,B
Image/1950/79/BW/FS 1.33
Quicksand is a lean noir. Auto mechanic Joe Hardy likes the ladies. When a flashy blonde struts behind the counter of a diner where he's catching lunch, Hardy's glib patter secures a late date. Back at the garage, Hardy realizes he he's flat broke and needs to come up with some greenbacks to entertain the lady. One complication leads to another. When you make that first false step into quicksand, getting out is none too easy. Perhaps the script is too predictable and some of the sermonizing regrettable, but Quicksand manages to deliver reasonable "B" entertainment.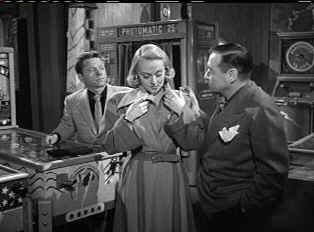 Oil and quicksand mix in an amusement parlor. ŠIMage
Mickey Rooney as the auto mechanic slowly sinking in the title's proverbial quicksand does a good job. There's little characteristic mugging or posturing, though his trousers are decidedly too short. Jeanne Cagney, the younger sister of James Cagney, looks too much like her brother for my comfort level. She's not very convincing as the platinum blonde who precipitates Mickey's decent. There are several other inanely scripted portrayals and Peter Lorre has a role that gives him very little to do but look quite oily. He does do oily with slick precision.
Quicksand is photographed in a clean noir style. There are few dalliances along the way to the climatic scenes. Straight forward in every way, you get what you expect.
This is the best of the recently released group of B flicks starring Mickey Rooney. Transfer elements are in very good shape with very little dirt. There are a couple of bad splices and some background elements that appear to have been affected by the MPEG compression. Detail is uniformly excellent. Grain is present, but is mostly transferred with fine structure. This noir has fine contrast range, fully exposing shadow details and emphasizing the dramatic high key lights. The Dolby mono soundtrack is free of hiss, while there is a touch of wow and flutter in the score. Dialogue may be ripe at times, but it's delivered clearly.


Selections from the feature archive include articles on Akira Kurosawa, Frank Darabont, Blonde Bimbos, Hollywood Street Gangs, or Vietnam: The Hollywood Pariah, and many more....
Redeeming the Writer:


A Conversation with Frank Darabont
---



News, information, features about current films in theaters and in the pipeline. Easy to use interface.
---


Home of The American Film Institute.
---


Click on the link to visit the judge's chambers.
---


The National Film Preservation Foundation (NFPF) is the nonprofit organization created by the U.S. Congress to save America's film heritage.
---

Direct from the corridors of the Home Theater Forum, Home Theater Talk is the newest place on the Net to discuss everything home theater. Friendly atmosphere and knowledgeable folks are the secret ingredients.
---

The Movie Poster Archive includes extensive poster images from the films of stars like Susan Hayward, Kirk Douglas, Katharine Hepburn and many more. Our featured star is Tyrone Power.