Who is Howard Stern? Is he a shock jock radio and television personality whose crudeness has sent vibrating radio signals across the nation? Was this guy born to be shocking and disgusting? What kind of a human being can this be? If Private Parts, the story of Stern's rise to the spotlight, is even remotely true, Howard Stern is just another performer looking for a niche. In Howard's case, that meant foul mouth, irreverent humor, and anything goes on air attitude. But Private Parts depicts another Howard Stern as well and therein lies the success of Private Parts.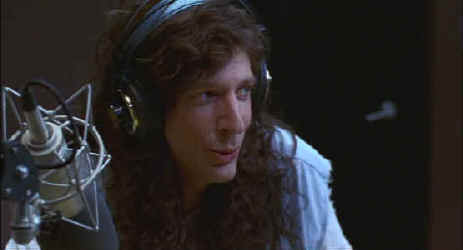 Howard at the mikeŠParamount
The journey from a little boy berated by his father to a radio personality powerful enough to buck a father figure in NBC is a consistently entertaining trip. With glimpses into Howard's personal life beginning with college where he meets his wife to be Alison, Privates Parts manages to paint a portrait of a loving, loyal character who grows emotionally as his humor grows outrageously.
Betty Thomas directs with a straightforward approach that showcases Howard Stern in simple compositions with no clever adornment. Private Parts moves quickly with some clever signage segments delineating the steps in the Stern career odyssey. Fans of Stern shock radio may not get a strong enough dose of the dark knight of questionable taste. As a simple biographical comedy of a controversial entertainment figure, Private Parts is very successful and will make a pleasant surprise for audiences that eschew the Stern presence on radio or television.
Stern is very funny and endearing playing himself, and even manages the burden of imitating a college freshman with amiable grace. Robin Quivers, also playing herself, appears to be genuinely enjoying Howard's on screen humor. And Mary McCormack is very appealing as Stern's patient wife.
Slightly lacking in light output, Private Parts is an adequate DVD. Less than optimum detail is extracted from the source material and a number of marginal scenes appear soft. Color, reflecting the output, is less dynamic than it could be. The Dolby Digital 5:1 surround information creates an interesting stage for the antics of Stern and company. Sound is well mixed and accurately located.