Practical Magic wants to be funny but can't seem to find the right tone. There are virtually no belly laughs culled from the story of family of witches living under the shadow of an ancestor's curse. When the film tries to be romantic, there is little substance.
Brought up by their maiden aunts, Sally and Gillian Owens would like to forget their witch's legacy, but between the temptations of their aunts and the taunts of the townsfolk, it's not so easy. The eccentric aunts could be an advertisement for "Good Witchmaking Magazine." The sexy Gillian takes off in search of adventure and romance while stable Sally stays home and makes kids. But the Owens curse changes everything.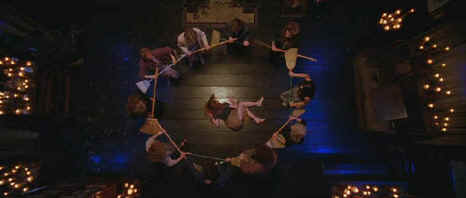 Witches exorcism©Warner
Set in a picturesque New England seaside town, director Griffin Dunne works too hard at providing quaint touches, mostly a la the aunts. The innocence of small town life is presented with a rather repugnant sugar coating. When the film takes some strange dark turns it is mostly heavy-handed. A measure of redemption comes with the arrival of an investigator searching for Gillian's serial killer boyfriend.
The quartet of witches working hard to make Practical Magic appealing are Sandra Bullock, Nicole Kidman, Diane Wiest and Stockard Channing. Kidman's role as Gillian calls for too much sleaze while Bullock's Sally never lets it all hang out. The bed laid moments of witchcraft are left in the ample arms of old pros Stockard Channing and Diane Wiest playing the aunts. Aidan Quinn doesn't quite know what to do with investigator Gary Hallet. Quinn and Bullock have nice screen chemistry together, but they spend too little time getting to know one another. The maiden aunts are the funniest part of Practical Magic, a film that strives so hard for its quaintness that it falls on its rather broad posterior.
The production witches have done a nice job making a spell over this transfer and turning it into a sharp and satisfying anamorphic DVD. A full color range is tightly transferred with excellent skin tones. Bright colors and high contrast camera work provide a snappy palette for Practical Magic. There's a very upbeat soundtrack accompanying much of the film. It's delivered with a pleasant range. It sort of falls apart when the saccharine gets too heavy, but it is well recorded on the Dolby Digital 5:1 sound track. This special edition DVD of Practical Magic includes scene specific commentary from director Griffin Dunne, two "making of" shorts, several TV spots and a thetrical trailer. You need to solve a magic potion mix to get tot he promotional shorts.