Planet of the Apes (SE)/C,A
Fox/2001/124/ANA 2.35
The original Planet of the Apes was a favorite of mine. An original script and taut direction brought the Pierre Boule novel to terrific screen life. Tim Burton was given command of the most recent flight of the Apes enterprise. Burton brings his a hip camp sensibility to the material, but it doesn't go far enough to be funny nor serious enough to even achieve a measure of action comic success.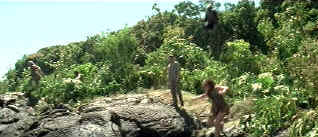 Ape sets high jump record. ©Fox
This new planet is more related to the later Ape sequels. Costume design is brilliant, but I think Burtonís choice of mostly dark settings didnít do anything to make his comic book friendlier. Characters are given inconsistent physical abilities, a rather annoying sloppiness. The relationship of the native humans and the space refugee is a missile off target.
Mark Wahlberg did nothing to enhance his movie star credentials in Planet of the Apes. Wahlberg manages to make astronaut Leo Davidson blander than the apes, with even less character definition than the miserably made-up chimps. The biggest problem with Burtonís Planet is that there seems to be no concern for character development and the action is often silly. Events just happen, quickly. Wahlberg is out of the cage almost before the first night falls. Why doesnít Wahlberg speak to the fellow prisoners? It was so much better in the original that the humans did not speak and speech was what separated Heston from the other humans. This time Wahlberg is distinguished from the other humans by a better haircut and his invaluable experience in Calvin Klein commercials.
Planet of the Apes is a great DVD production. Maximum detail is resolved realizing many three-dimensional scenes. There are a preponderance of dark scenes, a la director Burton's wont, but outstanding black level and shadow detail pump them to life. Resolution is even sharp enough to reveal what I would consider some make-up shortcomings, like the mask-like chimpanzee countenances. Color is right on target. Comparing the DTS and Dolby Digital soundtracks led me to watch DTS. The DTS was more focused and aggressive.
The special edition gets the plush 2 disc DVD treatment. An enhanced viewing mode allows you to watch the film with periodic PIP windows providing either talking head commentaries form film principals or visual segments on the aspects of production, like building the forest set. Audio commentaries by Tim Burton and composer Danny Elfman anchor the extras. There are numerous small featurette covering different aspects of production. There are five extended scenes, an HBO special, a music video, multi-angle scene studies and more.


Selections from the Feature Archive include articles on Akira Kurosawa, Frank Darabont, Blonde Bimbos, Hollywood Street Gangs, or Vietnam: The Hollywood Pariah, and many more....



Click on the image above for as original view of Akira Kurosawa's work
---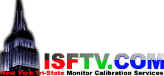 ISF Monitor Calibrations in the Tristate New York area. Lots of hardware info and frequent hardware peaks from video expert Kevin Miller. They may be judgmental, but that's the point, isn't it. Lots of DVD reviews plus news and more.
---


The Cinema Laser
A home grown magazine for laserphiles that has been publishing for a number of years and has embraced DVD in a big way. Lots of helpful information.
---

Have you visited Home Theater Talk lately? One of the friendliest places on the Net for Home Theater and DVD discussion, you can get help for installation problems or simply share your opinions with other Vidiots.
---

Click on the DVD MIA symbol for profiles of DVDs missing in action.
Add films to the DVD MIA Master List by filling out a simple form. Click Here


Spartacus (SE) /A, B+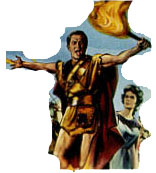 This is one of the great epic films with an animally electric performance from Kirk Douglas. Great special edition.