Paris When it Sizzles/C,B+
Paramount/1963/110/ANA 1.85
Oh, those movie marketers, how could they ever go wrong with the proven combination of William Holden wooing Audrey Hepburn. Paris When it Sizzles opens with a promisingly wry South of France resort zoom on a Hollywood producer, dictating a wire amidst a bevy of heaving bosoms. And when it follows the lead of the telegram and arrives in the Paris suite of screenwriter Richard Benson, the sardonic dialogue of Benson promises a sophisticated screen romp. With the arrival of Gabrielle Simpson, a stunning typist, romance is in the air born on the glorious charm of the lovely young woman.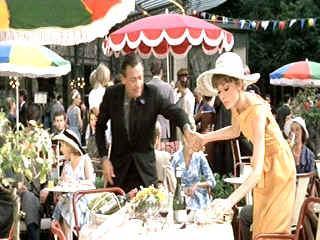 A sumptuous table setting with no substance. ©Paramount
Paris begins to fizzle when Benson runs out of ideas for the screenplay he has to deliver to producer Alexander Meyerheim by the end of the weekend. As he dictates endlessly silly possible scenarios to Gabrielle, the daffy scripts are played out with Holden and Hepburn filling in for the character leads. This grows old before it ever really ignites. It's not so much that the device is bad, it's the abysmal execution. The screenplay possibilities needed to be fresh and daring. They only serve to stifle what could have been a terrific comic romance between Benson and Hepburn. The screenwriting team probably thought all the silliness was hilarious, but they are indeed int he minority.
Richard Quine, a director with a practiced hand at delivering comic fluff with flair, cannot make a soufflé from broken egg shells. With snazzy production design and lots of fine elements, Paris When it Sizzles boils down to a lousy reduction sauce. There's nothing wrong with William Holden or Audrey Hepburn a dozen years after their successful fling in Sabrina. They have the screen magic. The script, however, lets them down, pretty miserably at times.
Paris When it Sizzles is presented with the exquisite colors of summer Paris intact and emphasized with practiced control. The flowers, colorful cafe umbrellas, even the food glows with vitality. The image it sharp without looking too enhanced. The source material is obviously in excellent condition. There a few marks of age, but they are happily fleeting. Contrast ratio is excellent delivering theatrical pop to the DVD. A bright happy DVD overall, with clean mono sound.


Selections from the Feature Archive include articles on Akira Kurosawa, Frank Darabont, Blonde Bimbos, Hollywood Street Gangs, or Vietnam: The Hollywood Pariah, and many more....



Screen Voices and style of delivery often stamp an actor's screen image indelibly. Click the lips to read more.
---


Imaging Science Foundation


The Imaging Science Foundation promotes proper standards in home theater viewing. ISF trained technicians offer monitor calibration services to consumers. The difference in a properly calibrated monitor can be astounding. Click on the image to find an ISF member near you.
---
---
---

Jim Doolittle
ISF Instructor. Premier calibrator and expert front projection system setup technician in the Boston area.
---


Elegant DVD portal with news, reviews, links and information galore.
---


European film portal and hard to find video store.