Paint Your Wagon/C+,B+
Paramount/1969/164/ANA 2.35
Clint Eastwood in a musical? Lee Marvin in a musical? That's about the whole shootin' match here. It's the all singing, all dancing western musical spectacle set in No-Name City during the days of the California gold rush. Try as the might, the incredibly successful musical comedy team of Lerner and Loewe fail to dig up much gold in the film version of their stage play.
Part of the problem is with the casting. Eastwood acquits himself surprisingly well as Pardner, crooning a couple of small tunes simply, but Marvin' Ben Rumson is mostly etched from the memory of his great performance as Kid Shelleen in Cat Ballou. He's funny in stretches, but the character lacks the insanity of that other great drunk role. And believe, you won't want to hear him sing! Jean Seberg is an appealing Elizabeth. She doesn't have much to do but bob and weave between her two men.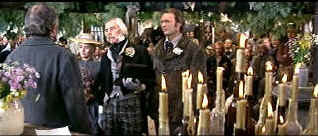 Standing up for and holding up Rumson. ©Paramount
Wandering Ben Rumson stumbles onto a seriously injured Pardner and his dead brother. Lo and behold the gravesite along a bubbling river is sparking with flecks of gold. Ben stakes the claim for himself and Pardner. Around the gold and prosperity a town rises up, but the one thing missing are the ladies. A Mormon man shows up with two wives and sets the miners to salivating over the imbalance of the situation. An impromptu auction rectifies the situation and Rumson buys the hand of Elizabeth, a strong-minded independent woman. Rumson isn't the prettiest guy to look at, but Pardner is mighty appealing to Elizabeth. He returns the desire and before you know it No-Name City is home to a most unusual relationship.
The book structure supports the long running time pretty well. Basically a three act play, it's finding gold, playing with the gold, and running out of gold. It tries hard for quaint comedy at every point and only has sputtering success. Most disappointing is the musical direction. It's rather listless. The production numbers fail to ignite any excitement. The recording lacks an intimacy with the actor's performances. The songs float in a nether land between the sky and the character. Rather than point a finger at the DVD transfer, it appears more a director's choice. The production design is fun, the big catastrophe sequence, quite funny, yet one can still imagine how it looked on the Broadway stage. Even They Call the Wind Mariah, a popular hit during the stage run, plays wooden despite Harve Presnell's excellent singing voice.
There are plenty of characters to add to the eccentric behavior of the quaint mining town. Ray Walston is Mad Jack Duncan, a miner with a penchant for tunneling; Harve Presnell is gambler Rotten Luck Willie; and Tom Ligon spreads his smile from one end of California to the other as Horton Fenty, a young innocent introduced to the pleasures of No-Name City by Rumson.
This is a handsome widescreen DVD. Color depth is excellent with appealing saturation. Skin tones have nice shading and never appear pasty. Gold dust is defined with resolute precision. You'll probably be able to catch every bloodshot roll of Lee Marvin's eyes. Blacks are rich without being crushed and contrast level pack adequate punch into the picture. The Dolby Digital 5:1 surround is cleanly delivered, though songs, as pointed out earlier, lack character localization.


Selections from the Feature Archive include articles on Akira Kurosawa, Frank Darabont, Blonde Bimbos, Hollywood Street Gangs, or Vietnam: The Hollywood Pariah, and many more....
Puttin on the Ritz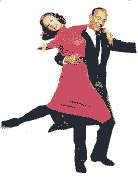 Fred Astaire and Cyd Charisse bring Silk Stockings to life, a remake of Ninotchka, one of many films successfully turned into musicals by the Hollywood dream factory. Read all about remakes into musicals by clicking on the divine dancers.
---

Take a look at the merry images of America's gift to the movies: Hollywood Musical Posters are featured from The Movie Poster Archive.
---


Annie Get Your Gun/A,A-


Irving Berlin's brilliant musical gem is polished and preserved on this Warner DVD release. An explosion of music, song, dance and color.
---


Imaging Science Foundation


The Imaging Science Foundation promotes proper standards in home theater viewing. ISF trained technicians offer monitor calibration services to consumers. The difference in a properly calibrated monitor can be astounding. Click on the image to find an ISF member near you.
---


Terrific resource for learning about the ins and outs of movie poster collecting.
---

Have you visited Home Theater Talk lately? One of the friendliest places on the Net for Home Theater and DVD discussion, you can get help for installation problems or simply share your opinions with other Vidiots.
---


Original articles, DVD reviews, links, forum discussion and more.
---


Specializing in DVD Collector's Editions, this new site is just starting to build its review database. Check out reviews of the trio of Kevin Smith specials.
---