This is a movie that gets down to it almost immediately. A group of down and dirty crooks take out a nest of drug dealers absconding with the money and the white stuff. The deed is done before the audience realizes what is happening. We are almost as surprised as the victims. You could almost call this one "Never Look Back."; that's the way the action flows. From the first hard-hitting opening scenes One False Move moves furiously to its appointment with the inevitable.
The combination of characters is fascinating. The cold, frightening intelligence Pluto. The explosiveness of Ray Malcolm. Then there's Fantasia who's lackluster enthusiasm for the crime and cleanup emphasizes the nature of her partners in crime. Add in an enthusiastic Southern sheriff dreaming of a chance to make it to the big city as a cop and One False Move really takes off.
The details of small town Southern life that are woven into the fabric of a tense action movie bring an unusual depth to what might otherwise be simply a genre film. Think about the rather pathetic ambitions of Sheriff Dale "Hurricane" Dixon. Ponder Fantasia's roots. Would she be in her predicament if it weren't for Dixon?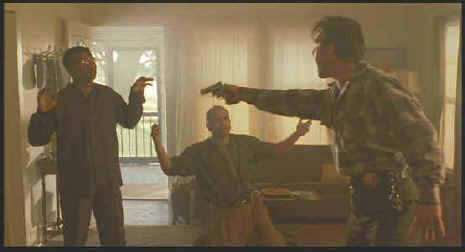 ©Columbia Tristar
Danger lurks in the shadows of every scene. There's danger in the woods, danger in the convenience store, danger at the safe house. The tension is strung out like a wire from one tightly wound end of the movie to the other.
This was director Carl Franklin's breakthrough film after a stint at "Corman U" making several films that went straight to video or straight to Latin America.. Franklin has a great sense of where to put the camera. He uses camera movements like a pair of eyes surveying his film landscape. And this film is cut close to the bone leaving the sweetest meat in tact.
Franklin, whose experience as an actor in front of the camera pays dividends in eliciting on target work from his principals. Bill Paxton combines innocence, tenacity and stupidly to make his role as sheriff Dixon work to perfection. His cracker sheriff amongst the screen's best and this from a pool of performances richly endowed with colorful possibilities. Billy Bob Thornton is loony tunes as the unpredictable Ray Malcolm. Thornton, co-writer of One False Move with Tom Epperson, understands this character well. Michael Beach gives a frightening performance as Pluto and Cynda Williams is likewise convincing as Fantasia.
Transparently beautiful, this DVD delivers the film on a platform worthy of the material. You probably have never seen One False Move looking this good. The chromatic desaturated palette of Franklin might look uncomfortably muddy in a lesser transfer, but every iota of dynamic range is extracted to bring this dark story to life. Images are consistently sharp in virtually every circumstance. Even the two channel Dolby Digital sound adds to dangerous ambiance. Carl Franklin adds a fine audio commentary with open and honest remarks concerning his filmmaking breakthrough. There are also a couple of theatrical trailers included. What with Devil in a Blue Dress and One True Thing recently released on DVD, viewers are being treated to a veritable mini Carl Franklin festival.