Oliver ,adapted from Broadway musical of Charles Dickens' Oliver Twist, was a huge winner at the 1968 Academy Awards including Best Picture. Directed by Carol Reed, it is a dark vision of London's 19th century back alleys tarnished by the sickly sweet portrait of young Oliver. His innocence overflows to such a degree as to lose audience sympathy. Fagin, of course, is a meaty character, though tainted by overt anti-Semitism. The songs Fagin sings, liberally borrowing from the typical themes of Eastern European Jewish folk music exacerbate his anti-Semitism. The movie portrait of Fagin, however, is consistent with Dickens characterization. The Artful Dodger is Oliver's best asset. The Dodger remains the only character in Olivier with a joie de vivre. The screen comes to life in almost all of his scenes.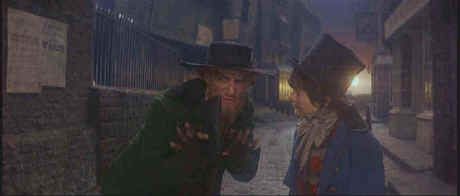 Fagin and The Artful Dodger plot an exit strategy©Columbia
It's a tall task to breathe life into a musical born in the dark workhouse where Oliver grows up; taller even in the shadow of Bill Sikes, the abusive one-dimensional thief who smothers any sense of lightness in this musical. There are some captivating musical numbers. "Consider Yourself" is a tour de force and "Oom-Pah-Pah" has great energy as performed by Shani Wallis in the role of Nancy.
Mark Lester has the chore of making something out of the saintly Oliver. The boy lacks screen presence and consistently pales in comparison to the rest of the cast. Ron Moody does a grand Fagin, dancing and singing with a center derived from his character. Jack Wild does wonders with The Artful Dodger while Oliver Reed glowers his way through Bill Sikes.
It's interesting to compare Oliver to another Reed film, Odd Man Out, also newly released on DVD. The film about a bungled IRA bank robbery takes place almost wholly at night. With almost dreamlike photography and a magnificent William Allyn score, Reed's vision plays against the material. Oliver lacks the scope of beauty in either music or photography.
Oliver is spread onto two sides of the DVD, the break coming at the film's theatrical intermission. This break could not be placed more appropriately, but it still means a trip to the player to flip the disc. Contrast is often less than satisfactory on this DVD presentation of Oliver. Details have a tendency to bloom against gray skies. The snow scenes appear too washed out and overall the DVD feels under-saturated. The Dolby Digital 5:1 mix is very fine, presenting the music with clarity and energy. Surround location is accurate and a sense of place is maintained. Dialogue and songs are easy to understand.