Monster's Ball (SE)/ B+,B+
Lion's Gate/2001/112/ANA 2.35
Three generations of Grotowskis living together in tight-lipped discord are death row guards at a Southern prison. The precarious balance of their triangle is showing signs of imbalance that forebodes impending implosion. As the Grotowski world comes under severe pressure, a death row widow, Leticia Musgrove, finds her life in collision with Hank Grotowski. Monster's Ball details with rich texture the various relationships of father to son, mother to daughter, and man to woman. It's emotional power is often remarkable.
Though many of the kudos bestowed on Monster's Ball refer to it as a performance movie, director Marc Foster has done a splendid job. Working from a tightly knot script by Milo Addica and Will Rokos, he creates a knotted tension throughout the production, particularly in the early scenes. The death row sequences detailing a methodical procedural approach work very well. This is very spare filmmaking. There's a very clean line that runs from beginning to end. And Foster keeps the explosive emotion in tow. The simple script is never affected. You do not get the feeling of being manipulated by the filmmaker. The pervasive minimalist sensibility of Monster's Ball suits the material to perfection.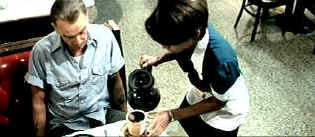 A cup of coffee goes a long way. ŠLion's Gate
Roberto Schaefer's cinematography is stunning. End to end compositions on the 2.35 widescreen are beautifully balanced but consistently disappear into the narrative. The lighting is fabulous. Outstanding score from Asche and Spencer effectively weaves through and blends with the narrative.
People in need seem to somehow latch onto each other. Monster's Ball is essentially a film about people in need, about people in denial of their own lives. There's a sense that the film wants its character to break away from the mold they've been cast into. Of course, the film is laced with irony. But again, the fact that Foster keeps is so straight and narrow is to his great credit.
Foster gets grand performances across the board. Of course, Halle Berry's Academy Award winning performance is excellent, but personally, I found Billy Bob Thornton extraordinarily effective as Hank Grotowski. It's a wonderfully understated perfectly modulated performance. Thornton's great performance forces a certain restraint in Berry's work. The use of screen hunk Heath Ledger in a striking supporting role is a great choice. Ledger does fine work. In fact, all the acting soars. Peter Boyle's vacuous presence as the senior Grotowski Buck is frightening in its fierce reality. Very nice work from Sean (Puffy) Combs as Lawrence Musgrove.
Lion's Gate delivers Monster's Ball in a very detailed transfer. The image has a three-dimensional due to the great depth of detail. Contrast range is excellent. Color is consistently accurate with a cool, detached palette often playing against the emotional content. Skin tones are very natural with good range. The transfer has an overall glossy feeling with plenty of spare light output. Good surround directionality and an open feeling to the music on the Dolby Digital 5:1 surround track.
This very generous special edition features two dual commentaries; one from director Marc Foster and cinematographer Roberto Schaefer and a second from stars Halle Berry and Billy Bob Thornton also with Marc Foster. Both commentaries are relaxed and informative with outstanding scene specific insights. There are deleted scenes as well as outtakes. Behind the scenes footage includes cast interviews and character insights. There's also a short anatomy of a scene feature. Billy Bob Thornton's playful scene twisting in the outtakes of Hank as played by Carl (Thornton's signature Slingblade character) alone is worth the price of purchasing this DVD.



Selections from the Feature Archive include articles on Akira Kurosawa, Blonde Bimbos, Frank Darabont, Steven Culp, John Herzfeld or Vietnam: The Hollywood Pariah, and many more....
Hitchcock on DVD



Information and review links to Alfred Hitchcock on DVD
---

The Movie Poster Archive include extensive poster images from the films of stars like Susan Hayward, Kirk Douglas, Katharine Hepburn and many more. Our featured star is Burt Lancaster.
---


Ghost Dog: Way of the Samurai



Ancient Japanese samurai tradition compared to new world Italian mobsters filtered through the imagination of Jim Jarmusch. Forest Whitaker is outstanding.
---



ISF Course Instructors Jim Burns and Kevin Miller are hosting the Digital Film Forum. Join professionals and enthusiasts for lively home theater discussion.
---

Have you visited Home Theater Talk lately? One of the friendliest places on the Net for Home Theater and DVD discussion, you can get help for installation problems or simply share your opinions with other Vidiots.
---


Manufacturer of computer-video interfaces, switchers, distribution amplifiers, computer-video scan converters, and high resolution cable. Found in many high end home theater systems.
---

The Cinematheque is a cultural, arts organization that programs year-round specialty film series at the newly renovated, landmark 1922 Egyptian Theatre on Hollywood Boulevard!
---