Midnight in the Garden of Good and Evil/C+,A

Warner/1998/155m/

WS,ANA 1.85

There are moments during Clint Eastwood's latest film that one might mistake it for a travelogue extolling the eccentricities of Savannah, Georgia, the would-be star of Midnight in the Garden of Good and Evil. The tale of the murder trial of rich and influential Jim Williams from the best selling book by John Berendt is a meandering adaptation that lacks a definitive tone. The story is greatly condensed and the author becomes a prominent character by the name of John Kelso in John Lee Hancock's(A Perfect World)screenplay.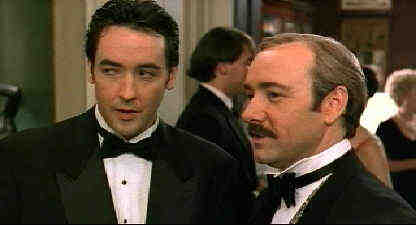 Spacey hosts Cusack at "The" party.©Warner
Despite too many precious moments, the strength of Kevin Spacey in the role of Jim Williams and Jack Thompson as his attorney Sonny Seiler make for good screen entertainment. This is not one of John Cusack's best roles as writer Kelso. He seems superfluous to the story. Alison Eastwood is very effective as a love interest for Cusack, but it's just another strand of plot that goes nowhere and dissipates in the overall lackluster screen treatment. And believe me, there's far too much screen time given to The Lady Chablis, a colorful Savannah transvestite playing herself in the movie.
"Midnight" is a crackerjack DVD package, chuck full of delightful surprises. Following the successful similar packaging of L.A. Confidential on DVD, Warner has a map introducing the places and people of Berendt's Savannah tribute. Sonny Seiler, who plays Judge White in the film, is featured prominently in discussing the characters that people the film and some details of the actual murder case.
The anamorphic 1.85 transfer is quite stunning, with amazing depth and intensely vibrant colors. Detail is consistently sharp and even in dark scenes like the cemetery setting, it's all clear on this DVD. The Dolby Digital 5:1 surround information is delicate and involving.