Too bad the script and one bad acting turn sink Mercury Rising beyond rescue. Given an understated performance by Bruce Willis as a disaffected FBI agent and an excellent young co-star in Miko Hughes playing an autistic savant, you'd have to guess this was a winner. Too many improbabilities and characters as flat as a blank piece of typing paper govern the fate of Mercury Rising. Alec Baldwin is over the top playing the military villain. You can blame Baldwin or you can blame the script, but the result is disastrous either way.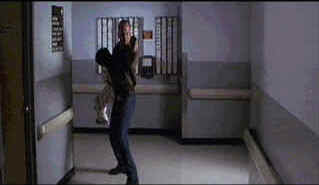 Willis with boy and gun in hand. ©Universal
Willis is Art Jeffries, an FBI undercover specialist who becomes too emotionally involved with the perpetrators he has infiltrated. In an early morning hostage shoot-out, Jeffries loses his cool over the manner in which his FBI colleagues dispose of the cult members holding hostages in a bank. The result is a demotion to telephone surveillance duty. Meanwhile, a young autistic boy inadvertently deciphers a secret cryptographic code in a puzzle book. Colonel Kudrow(Baldwin)orders his heavies to dispose of the boy and his family. The assassin can't find the boy before the police arrive to answer a 911 call from the dying father. Since Jeffries is close by, the FBI sends him to investigate. He finds the boy hiding in a hidden cubby and takes him to the hospital. Before you can say Alec Baldwin, the heavy is dispatched to the hospital to finish off the boy. Jeffries comes to the rescue, grabbing the boy from the hospital. Everybody's after Jeffries and the boy. I can promise you this: before Mercury Rising ends, Jeffries gets to have two confrontations with Kudrow, some good wine is wasted, and the boy says "Art is a friend."
Harold Becker directs by the numbers(pun intended). Mercury Rising is given a slick visual treatment and Becker keeps the action moving efficiently.
A very fine anamorphic transfer enhances the Mercury Rising experience. The many night scenes have sparkle and snap. Deep blacks and vital colors are consistent throughout the production. Detail is sharp, perhaps slightly over-enhanced. The Dolby Digital 5:1 surround sound is very active with fine directionality and controlled pans.