Lonely Guy, The/B-,B
Universal/1984/91/WS 1.85
Larry Hubbard is the perfect sweet hapless character that Steve Martin can bring to life. Though the comic material stretches thin by the end of The Lonely Guy, itís an enjoyable comedy that finds humor in some unexpected places and even gets somewhat avant-garde in its treatment of suicide.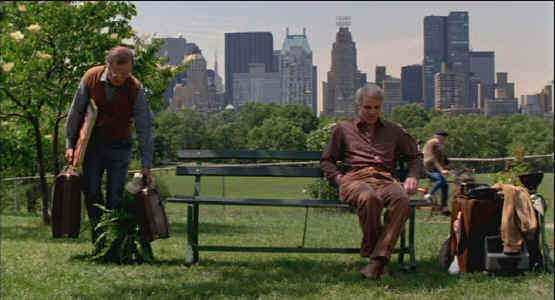 Lonely guys congregate in the park. ©Universal
Larry Hubbard's story wants to connect to of all those lonely guys in a city with eight million people like New York, strangers in a street of frenzied urbanites scurrying about their own business. Like many so many city relationships, Larry shares rooms with his girl friend, but the lease is in her name. When she takes on a new lover, Larry finds himself on a parked on a Central Park bench where he meets the lugubrious Warren,. another lonely soul dealing with his painful share of rejection. Warren is the original lonely guy and heís more than happy to share his vast experience with Larry presenting him with a montage lonely guy survival measures. The Lonely Guy makes a great change in direction when Larry is fired from his job as a hack greeting card writer and writes the ultimate lonely guy guide, an instant best seller. You can see the possibilities.
Steve Martin's lonely guy is joined by the doleful Charles Grodin as Warren. They make an excellent team, extracting the last drop from every teabag dipped into the pot of lonely guy gags. Arthur Hiller's direction is workmanlike. A Jerry Goldsmith score always adds some luster and New York is a perfect setting for lonely guy lore.
Transferred in a clean if unexceptional DVD, The Lonely Guy is easy to watch. An early Universal DVD release, this one's not anamorphic 16 x 9 enhanced. Perhaps it could have had some more contrast pizzazz and the image resolution is shy of perfection, but the colors are strong and the elements clean and stable. Dolby Digital mono 2 channel sound is adequate.



Quite simply one of the funniest comedies ever made and the transfer is gorgeous.
---

The Movie Poster Archive includes extensive poster images from the films of stars like Susan Hayward, Kirk Douglas, Katharine Hepburn and many more. Our featured star is James Mason
---



The name tells all.
---


Information on film sound in theaters and home theaters. Lots of helpful information provided in a handsome interface.
---


A self-proclaimed bastion of irreverence place where Joe Public smacks the heck out of the studio execs that treat us like cattle.
---