Lara Croft: Tomb Raider (SE) /C,A
Paramount/2001/100/ANA 2.35
Building a built-in movie fan base from another source is a time-honored Hollywood conceit. This time out a popular video game heroine has been turned into curvaceous life for the big screen. Lara Croft is a lusciously crafted creation set free in a CGI world whose cockamamie irrelevant plotting is subjugated to anything that looks good.
Approaching the filmmaking challenge with a mandate to film Lara from every lascivious angle, director Simon West has a good time showing off his leading lady. Lara fights the bad guys with acrobatic confidence and guns blasting from the hip. Lara's uniform of the day is requisite scanty with costumes tight enough to squeak. The major action sequences provide are active enough energy for several sequels. Dialogue is clipped and not very clever, but Lara Croft is something to ogle rather than ponder intellectually.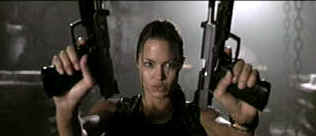 Two big guns and other equipment. ©Paramount
Angelina Jolie is an inspired choice to fill Lara Croft's nooks and crannies. Buff and agile, Jolie struts with piquant posturing through the various gyrations necessary for an action figure to interact with computer graphics. Jon Voigt. Jolie's real life Dad, is a nice casting touch as Sir Richard Croft, the famed tomb raider.
Lara Croft: Tomb Raider is one spectacular DVD. Every detail is extracted from the original source material with dynamic effectiveness. Lara's tight fitting cute leather outfits positively glisten seductively. There are lots of dark scenes in the film and black levels are as rich as can be offering outstanding depth and perfect shadow detail. Color is wonderfully realized, perfectly saturated and controlled. Flesh tones are accurate and there is not a hint of color bleeding. Perfectly sharp images are clean and unenhanced. The Dolby Digital 5:1 sound accompanies every CGI confrontation in perfect harmony delivering effects to every corner of the home theater.


Selections from the Feature Archive include articles on Akira Kurosawa, Blonde Bimbos, Frank Darabont, Steven Culp, John Herzfeld or Vietnam: The Hollywood Pariah, and many more....
The Bitch Brigade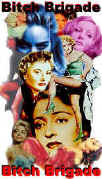 A line-up of lean-lipped actresses who marched through Hollywood in a high heeled goose step armed with razor sharp dialogue. Click on the image to read all about them.
---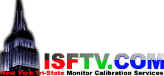 ISF Monitor Calibrations in the Tristate New York area. Lots of hardware info and frequent hardware peaks from video expert Kevin Miller. They may be judgmental, but that's the point, isn't it. Lots of DVD reviews plus news and more.
---


Mystery writer Fred Hunter digs into classic films on DVD. Check out his insightful reviews at The Classics on DVD.
---


News, information, features about current films in theaters and in the pipeline. Easy to use interface.
---