In the Line of Fire/A-,A
Columbia/1993/127/ANA 2.35
The nicest aspect of reviewing new DVD releases is the pleasure inherent in returning to a film already viewed several times and realizing just how good it is. In the Line of Fire has a beautifully written script with fully expressed characters. The quips they utter may have been created by a writer, but they reflect the reality of the characters rather than a clever comment without a basis in character.
From the script by Jeff Maguire, director Wolfgang Petersen has fashioned an exciting suspense film highlighted by excellent performances from Clint Eastwood and even the ever over the top John Malkovich. Eastwood's easy charm creates a natural character in veteran Secret Service Agent Frank Horrigan. Malkovich is restrained as a psychotic former CIA hitman with his gun turned on the President. These two characters thrust and parry until their climatic confrontation atop a dramatically glass enclosed elevator. The level of tension is maintained brilliantly by director Petersen.
Wow. The brilliance of color on DVD can find no better example than the Chicago Convention Center on this DVD. Afloat in a sea of red and blue balloons, the screen is a flood of color perfection. The saturation and cleanliness of the blues and reds is nothing short of breathtaking. DVD really sings with Component Video providing astounding stability of image. As an example, check out the stairs of the Capital Building, a torturous series of horizontal lines that strained for a decent image on the laserdisc. Detail is astonishingly revealing on In the Line of Fire. Subtleties of expression emanating from the eyes provides a road map to the characters. The widescreen film is delivered widescreen and anamorphic as well. Those lucky enough to own a television with switchable aspect ratio will watch a much more finely layered DVD image.


Selections from the Feature Archive include articles on Akira Kurosawa, Frank Darabont, Blonde Bimbos, Hollywood Street Gangs, or Vietnam: The Hollywood Pariah, and many more....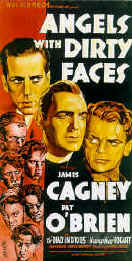 Hail, Hail, the Gangs in Hollywood
From Angels with Dirty Faces to West Side Story to Menace II Society, Hollywood has depicted youth gangs as reflections of the times.
---


Have you visited Home Theater Talk lately? One of the friendliest places on the Net for Home Theater and DVD discussion, you can get help for installation problems or simply share your opinions with other Vidiots.
---

Gary Morris's insightful publication Bright Lights Film Journal turns the celluloid in films from a unique perspective. Click on the image above for more pure movie views.
---


The DVD Forum is an international association of hardware manufacturers, software firms and other users of Digital Versatile Discs (the "DVD Format"), created for the purpose of exchanging and disseminating ideas and information about the DVD Format and its technical capabilities, improvements and innovations
---
.


DVD Demystified makes it all clear.The official Internet DVD FAQ for the rec.video.dvd Usenet newsgroups.